Cambridgeshire: New Rail Link Work Starts
14 September 2013, 08:15 | Updated: 17 September 2013, 17:47
Network Rail begins work this weekend on a new link tunnel - which will eventually allow passengers from Cambridge and Peterborough stations - to travel directly to Gatwick Airport and onto Brighton.
Canal Tunnels in north London, which run between the East Coast main line near King's Cross station and the Thameslink route at St Pancras station, will link for the first time local and regional services from Cambridge and Peterborough with the route to Gatwick, Brighton, the south coast and Kent.
Connecting these services, which are currently operated by First Capital Connect, to the Thameslink route through central London is a key stage in the evolution of the rail network and a vital part of delivering capacity improvements in and around London.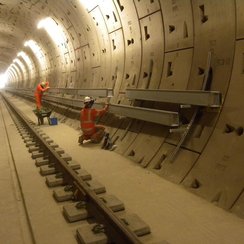 Trains travelling through Canal Tunnels will provide up to eight of the possible 24 services an hour which will travel through central London when the £6bn Thameslink Programme is completed in 2018.
The Thameslink Programme will provide a significant increase in capacity into, through and out of London and provide better connections with Gatwick and Luton airports, Crossrail services at Farringdon and Eurostar and high speed services at St Pancras International.
Canal Tunnels were built at the same time as the redevelopment of St Pancras station between 2004 and 2006. Network Rail is currently installing track, signalling, power and safety systems to run services through them from 2018.
Dave Ward, Network Rail's route managing director for London and the south east told Heart: "Connecting Canal Tunnels with the two railway lines running into King's Cross and St Pancras is one of the key parts of the Thameslink Programme.
The tunnels are just as important as the redevelopment of London Bridge station in helping to deliver capacity benefits in and out of London. They will also provide a range of journeys between the south coast and East Anglia which were previously not possible.
Thameslink will transform the railway across London and the south east, providing passengers with longer trains, more seats and a better level of service to meet the ever increasing demands placed on the rail network."

When Thameslink is complete, a new fleet of eight and 12 car trains will operate through the Canal Tunnels on the route between Cambridge and Peterborough, central London, Kent and Brighton as well as to Gatwick and Luton airports and Bedford.
The first stage of connecting the tunnels to the network - which will include track work on the East Coast main line near the tunnels' entrance - will take place over the weekend of 14 and 15 September and will impact train services into King's Cross. Network Rail is working closely with all train operators affected by the Thameslink programme to minimise disruption and provide information to passengers.