Cambridge: Couple Take 5 Days To Claim Jackpot
26 February 2014, 06:25 | Updated: 26 February 2014, 06:42
When a young couple from Cambridge won £70,000 on a scratchcard they were so shocked at their good news that it took them almost five days to make the claim.
Stephen McLennan (35) and Anna Jazanova (27) were on the way to visit friends for dinner on Friday night when they stopped to pick up a bottle of wine at a local supermarket.

Without really thinking about it, Stephen bought an Emerald 7s Doubler with the change, hopped back into the car and the pair continued their journey.

As Anna drove, Stephen played his Scratchcard, revealing the Emerald which indicated the pair had scooped the top prize of £70,000. Anna was suddenly aware Stephen was shaking all over and as she pulled over into a layby, Stephen shared the good news. Anna said:

"Stephen handed me the Scratchcard saying, 'I think we've won seventy grand!' I took it from him to check myself but it was as if my head had turned to mush and I couldn't really work out if we had won £7, £70 or £700 let alone £70,000. We were both so shocked that the Scratchcard went in Stephen's wallet and we carried on to our friends, deciding we wouldn't tell anyone until we had figured out exactly how much we'd won. "

The couple had dinner without sharing the good news although Anna admits that she might have drifted off occasionally during the meal thinking about the scratchcard and if they really had just snaffled £70,000.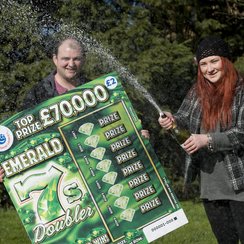 Once home the pair worked out that it really was a £70,000 top prize win but remained cool and calm, deciding to rest on their laurels and take a few days to gather their thoughts before making the claim the following Tuesday.

"It might seem a strange way to go about things but it meant that once the win was officially confirmed we were in a good place to get our heads around such amazing news. And the timings was perfect as had already booked a few days away in Italy and with £70,000 in the bank, that trip was all the more enjoyable!"

Despite banking the windfall, Stephen and Anna are keeping their feet firmly on the ground. They already own a property in Cambridge so have no plans to move and both enjoy their jobs, Anna as a travel agent and Stephen working for the Papworth Trust as a chef training disabled people and those with mental health issues to help them into employment. Anna said:

"We already have a pretty good life and I'm not really the sort of person who wants designer gear or a posh house. The best part of the win, without a doubt, is the security it will give us. We intend to buy an investment property in Scotland and we will also be treating ourselves to a trip to Asia as we are both really keen to spend some time in Thailand and surrounding countries. Other than that, there are no expensive treats, unless you count the endless treats our two pugs, Rocky and Pippi, have been enjoying since the win. I think so far they have benefitted most from the win!"

The winning scratchcard was bought in Tesco Express on Campkin Road, Cambridge.