Ely: Teenager Dies Swimming
17 July 2013, 12:56 | Updated: 17 July 2013, 13:44
A teenager who was living in Ely is one of two people who died in Bawsey Pits in Norfolk.
Police and fire chiefs have reiterated warnings about the dangers of swimming in open water after a teenager and a man died while swimming at a beauty spot in Norfolk yesterday (Tuesday) evening.

The 16-year-old boy, who was from London but had been staying in Ely, and a 41-year-old man, from King's Lynn, were found dead in separate lakes at Bawsey Pits on Tuesday night.

It is believed the man had swum about 50 yards (45m) out in one of the flooded quarries towards an island when he was seen disappearing below the water.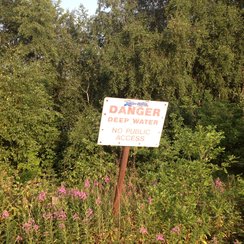 In an unrelated incident, the teenager was reported missing at another lake about half a mile away.

After searches were launched at 4.30pm, the body of the man was found at 7.24pm while the teenager was found at 9.25pm.

Both were found entangled in reeds about 6ft (2m) below the surface, Norfolk's Chief Fire Officer, Nigel Williams, said.

Hundreds of sunbathers looked on as the search took place and Mr Williams said officers had to prevent members of the public entering the water in their own rescue attempts.

Mr Williams went on: ``It was an extremely hot day and clearly the temptation to enter the water, despite many warning signs, was too much for some.

``When we arrived there were people still swimming in the water, oblivious to what was going on.

``Swimming is banned here and the signs are there for everybody to see. This just highlights the dangers of swimming here or in any other unsupervised area of open water.''

The search involved firefighters, paramedics, police and RAF search and rescue.

Norfolk Police Assistant Chief Constable Nick Dean said: ``People must heed the warning - you don't know what you're going into, you don't know the currents or what underwater obstacles there are.

``People were entering the water as we were attempting the recovery so that shows how, on occasions, people ignore the warnings.''