Cambridge: Grand Arcade Evacuated
26 October 2013, 14:05 | Updated: 5 November 2013, 14:25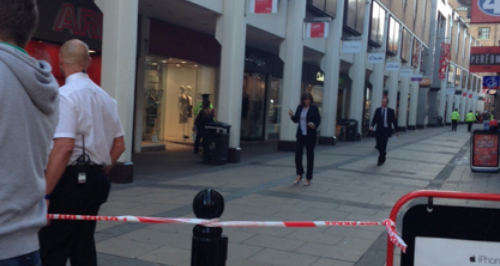 A controlled explosion has been carried out in Cambridge, after reports of a suspicious bag in the Petty Cury Shopping Centre.
The item concerned is believed to have been a rucksack in a rubbish bin.
It was spotted at around 12:45pm today.
Cambridgeshire Police have since confirmed that explosives experts found 'nothing suspicious' in the area, and the cordons in place were due to be removed.
A Police spokesperson had earlier said: "An area around Petty Cury has been cleared as a precaution following the discovery of a suspicious bag in a bin.
People are advised to avoid Cambridge city centre while a suspicious bag is dealt with by police and explosives experts."
As a result, emergency services evacuated the Petty Cury and Grand Arcade shopping centres, and a 100 metre radius of those points.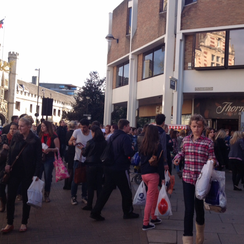 Witnesses reported alarms sounding, staff and customers being led from shops and a large police presence.
Explosive ordinance disposal experts were in to assess the situation and carry out the controlled explosion, however nothing suspicious was eventually found.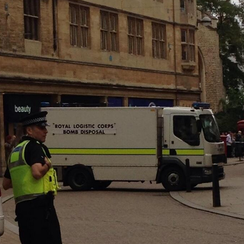 The Cambridge Business Improvement District group says its ambassadors assisted people in Cambridge city centre while the shopping centre was closed.
The East of England Ambulance Service's Hazardous Area response team was also called in to assist the emergency services.
Cambridge City Council closed the Grand Arcade Car Park, and advised shoppers to use other nearby car parks instead.
People attending a show tonight at the Cambridge Corn Exchange were also being advised to use alternative car parks by the venue.
Bottom picture from Twitter / @cambridgelass.