Hartford: Pub Destroyed By Fire
8 August 2013, 07:36 | Updated: 8 August 2013, 15:24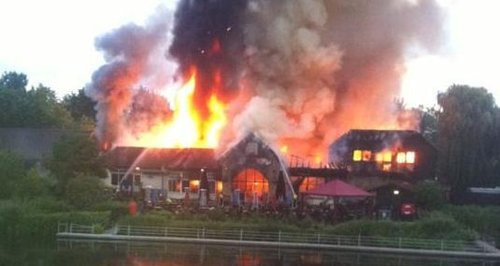 A big fire has completely destroyed a popular riverside pub in Hartford, between Huntingdon and St Ives.
Two crews from Huntingdon were called to a fire at Hartford Mill in Hartford Marina, near Huntingdon at 4.25am this morning (Thursday).
Firefighters arrived to find that everyone was out of the building unharmed, but that the fire was spreading rapidly.
They called for back up and additional fire engines from St Ives, Sawtry, Ramsey, St Neots, Chatteris, Sutton, Yaxley, the MultiStar +1 from Stanground (aerial rescue), and the Incident Command Unit were sent.
The fire was extinguished by around 8:30am, but crews remained on scene to continue spraying water over the building.
A spokesperson Cambridgeshire Fire & Rescue Service said: "The fire is now completely extinguished.
Crews are damping down at the scene to ensure that there are no hotspots remaining.
The fire has completely destroyed the majority of the public house, including the pub itself, the roof and living area.
The function room has been saved from fire, but is severely smoke damaged.
Due to the severity of the fire when we arrived, we were unable to save the public house itself, but were able to stop it from spreading to the function room.
This was a large fire, which has destroyed the home of a family and a popular venue used by the local community.
Thankfully everyone was able to get out of the property quickly and unharmed."
An investigation has concluded that the most likely cause of the fire was accidental, and started by electrical equipment.
The final fire crews left the scene at around 2:30pm.
Main photo taken by Tony Pryor, video by Cambridgeshire Fire and Rescue Service.