Lakenheath: 89 Year Old Speaks Of Attack
19 February 2014, 17:07 | Updated: 19 February 2014, 17:11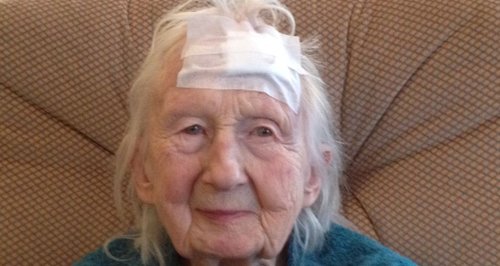 And 89 year old woman who was attacked by three masked me at her home in Lakenheath has spoken of the 'frightening' experience.
Connie Hallford was in her living room at her home in Arrowhead Drive between 7:45pm and 8:05pm on Monday 17 February, when she heard a loud bang at her front door.
She got up to see what was happening and saw three men running into her home.
One of the men hit her on the head, knocking her to the floor and made a demand for money.
The men searched her home before leaving via the back of the property.
Connie said: "I heard a loud bang on the door and then it was bashed down.
Three men walked in over the mess and I was hit over the head and fell to the floor.
I told them to clear off but they kept asking me for money and two searched the house, while the other stayed with me.
He was asking if I was alright but I had blood pouring down my face.
It all happened so quickly and I felt so frightened.
They didn't stay long and once they'd left I called the police on 999 who came really quickly.
The ambulance also came and took me to hospital where I had to stay the night.
I'm very cross and angry with whoever did this, I won't ever forgive them."
All three of the men are described as wearing dark clothing and had their faces largely covered.
Police have issued appeals for people who were in the area at the time to come forward and are particularly keen to trace the occupants of a black Vauxhall car that was seen in the Back Lane area of Lakenheath around 7.30pm.
However, so far the information received has been limited.
Detective Inspector David Giles said: "The response to our initial appeals has been disappointing.
However, we have a team of officers working in the area and continue to make enquiries.
People living nearby have been visited and leaflets have been distributed.
Our victim, Connie, has been incredibly brave today by waiving her anonymity and hopefully this will bring forward some new information.
We are sure someone out there knows who has committed this despicable crime and we urge anyone with information to get in contact immediately."
Anyone with information is asked to call Suffolk Police as soon as possible by dialling 101.
Alternatively they can call Crimestoppers, anonymously if required, on 0800 555 111.