Lakenheath: Bodies Of Servicemen Removed
9 January 2014, 05:50 | Updated: 9 January 2014, 14:40
The bodies of four American servicemen from RAF Lakenheath, who were killed in a helicopter crash during a training exercise on the north Norfolk coast, have now been removed.
Captains Christopher S. Stover and Sean M. Ruane, Technical Sergeant Dale E. Mathews and Staff Sergeant Afton M. Ponce died when their Pave Hawk helicopter came down on a marsh near Cley-next-the-Sea on Tuesday night.
RAF Lakenheath, where US Airforce 48th Fighter Wing is based, said that Captains Stover and Ruane were the pilots, while Tech Sgt Mathews and SSgt Ponce were acting as special mission aviators.
Colonel Kyle Robinson, 48th Fighter Wing commander, said: "We continue to think of the loved ones who are experiencing such a tragic, sudden loss.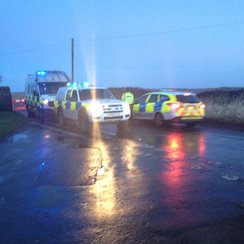 The Liberty Wing feels as though it has lost members of its family, and we stand by to support one another and these airmen's families during this difficult time.''
Air accident, RAF and US investigators spent yesterday at the scene of the tragedy, where debris is believed to have been strewn across an area the size of a football pitch.
The investigation has been hampered by munitions it was carrying on board, with bullets are scattered around the scene.
A 400-metre police cordon is expected to remain in place at the scene until Monday and the public have been asked to stay away.
Military investigators from the US and UK are expected to work together to establish exactly what happened once the police involvement is over.
Chief superintendent Bob Scully said: "You would be very much mistaken if you thought this would be a quick process.
It all hinges on our ability to establish what happened and the removal of the casualties, who are sadly deceased, could disrupt the evidence so this must be done methodically step by step.''
A derivative of the more famous Black Hawk helicopter, the Pave Hawk gets its name from the Pave acronym standing for Precision Avionics Vectoring Equipment.
They are used for combat search and rescue, mainly to recover downed aircrew or other isolated personnel in theatres of war.
They have a four-man crew and can carry up to 12 troops.
Typically, training flights would replicate as closely as possible real missions which would mean weapons and ammunition would be carried. ends.