Lakenheath: Senior Officer Pays Tribute After Crash
9 January 2014, 08:47 | Updated: 12 January 2014, 07:15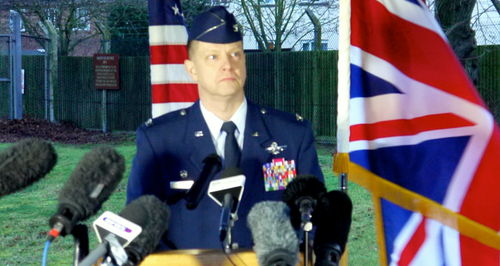 A senior US Airforce officer today paid tribute to four American servicemen from RAF Lakenheath who made the "ultimate sacrifice'' when they were killed in a helicopter crash during a training exercise on the north Norfolk coast.
Captains Christopher S. Stover and Sean M. Ruane, Technical Sergeant Dale E. Mathews and Staff Sergeant Afton M. Ponce died when their Pave Hawk helicopter came down on a marsh near Cley-next-the-Sea on Tuesday night.
Colonel Kyle Robinson, 48th Fighter Wing commander, told reporters at RAF Lakenheath, where the wing is based: "I am deeply saddened by the loss of these great airmen.
Colonel Kyle Robinson speaks to the assembled media.
They have made the ultimate sacrifice while training to save the lives of others.''
He told their families: "As a husband and father myself, I cannot imagine how heartbroken you must feel, now missing a piece of your family.
I speak for the entire wing when I say that we are thinking of you, we are praying for you, and we are here for you.''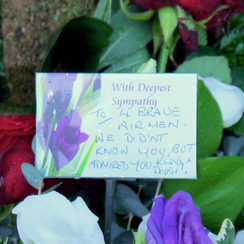 He also thanked the British authorities for their help in dealing with the crash.
Captains Stover and Ruane were the pilots, while Tech Sgt Mathews and Staff Sgt Ponce were acting as special mission aviators in the low level combat search and rescue training mission.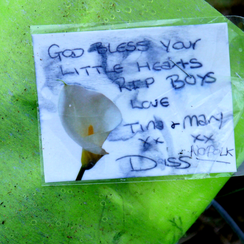 Col Robinson said it was too early to speculate on what had caused the crash.
Air accident, RAF and US investigators spent yesterday at the scene of the tragedy, where debris is believed to have been strewn across an area the size of a football pitch.
The investigation has been hampered by munitions the helicopter was carrying on board, with bullets scattered around the scene.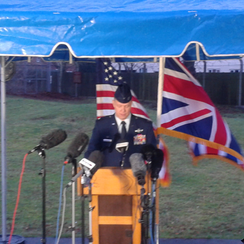 A 400-metre police cordon is expected to remain in place at the scene until Monday and the public have been asked to stay away.
It is expected that the bodies will be removed today.
Military investigators from the US and UK are expected to work together to establish exactly what happened once the police involvement is over.
Chief superintendent Bob Scully has said: "You would be very much mistaken if you thought this would be a quick process.
It all hinges on our ability to establish what happened and the removal of the casualties, who are sadly deceased, could disrupt the evidence so this must be done methodically step by step.''