M11: Motorists Survive Sign Slicing Crash
28 December 2013, 10:00 | Updated: 28 December 2013, 10:02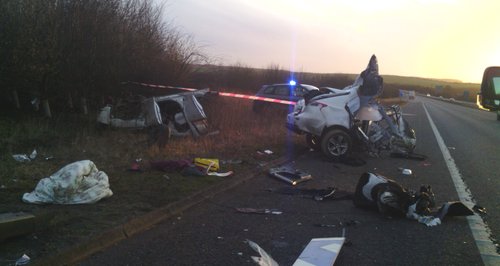 The driver on board a car which crashed into a sign on the M11 south of Cambridge - cutting the car in two - has survived
Fire & Rescue Crews say the driver of the vehicle made a miraculous escape after his vehicle smashed into a motorway sign - chopping the car in half.
Essex Fire & Rescue told Heart the car careered off the motorway near Great Chesterford on Christmas Eve and collided with a large sign at junction 9a at around 2pm.
Nigel Webb, Incident Commander, from Saffron Walden fire station told Heart: "The vehicle had left the road and collided with a large motorway sign, the impact effectively sliced the vehicle in half sending the front of the vehicle into the nearside bushes and the rear half onto the hard shoulder, simply an incredible escape for the driver."
No one was trapped in the vehicle, crews administered first aid at the scene to two casualties and dealt with the incident by 15:02hrs".