Mildenhall: Tributes To Airman
3 August 2013, 06:13 | Updated: 3 August 2013, 06:22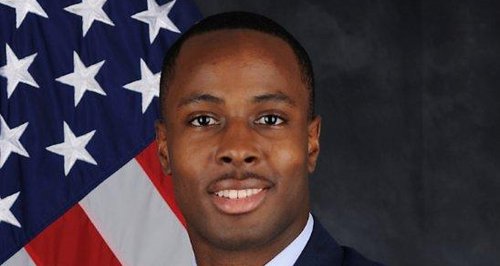 Tributes are being paid to an American Airman killed in a car crash near Newmarket.
Staff Sergeant Anderson Johnson [pictured] died in a crash on the 28 July, where the A1304 joins the A11 northbound.
Cambridgeshire Police believe the car that he was driving hit a tree.
Staff Sergeant Johnson was based at the American forces base at RAF Mildenhall.
The 24 year old was originally from Temple in Texas in the USA.
His family have released the following statement: "Anderson was smart, caring, and a hard worker; eager to help anybody and learn everything, just like his father.
His smile was like the sun, his laughter was contagious and his cheek bones reached the clouds.
He was a born leader, talented in sports; he loved God, adored his family, and was diligent in becoming the best husband ever.
We are stronger because of him.
We know what true love is because of him, and we will be better human beings because of him.
He was a wonderful husband, son, brother, family member, child of God and friend.
We want to thank all of you for taking care of him and loving him while he was with you.
100th Air Refueling Wing Commander Colonel Kenneth T. Bibb Jr. added: "We are deeply saddened by the loss of this member of our family.
We are doing everything possible to comfort those affected by this tragedy, and are working to determine what happened during this incident, in the hope that we can prevent this from happening again.
A spokesperson for RAF Mildenhall confirmed that a memorial service will be scheduled in the future to remember the life of Staff Sergeant Johnson.