Cambridgeshire: More Firefighter Strikes
1 November 2013, 06:54 | Updated: 1 November 2013, 06:55
Cambridgeshire Fire and Rescue are urging people to attend organised firework displays tonight, rather than hold their own at home.
It's because Fire Brigade Union (FBU) members are preparing to take industrial action, from 6:30pm until 11pm.

Residents across the county should be reassured that Cambridgeshire Fire and Rescue Service has back up plans in place to ensure it can still answer 999 calls. These plans will not match the Service's normal day-to-day cover, but will be enough to ensure that life-threatening incidents, such as house fires, road traffic collisions and vehicle fires received a 999 response.

Chris Strickland, Deputy Chief Fire Officer at CFRS, said: "The strike falls on the Friday before Bonfire Night. It is just before Diwali and coincides with half term, so people need to be really careful with fireworks and bonfires.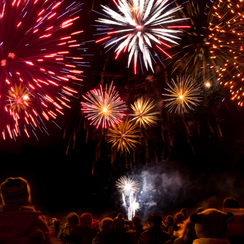 "Some residents will be planning to hold their own firework celebrations on Friday and we are urging them if possible to rearrange their plans to another evening. If you want to see fireworks, it's safer to go to organised displays than setting off your own and lighting bonfires.

"If you do decide to light a bonfire or fireworks, please follow simple safety measures to stay safe. By preparing to follow this guidance, members of the public can greatly assist us by reducing their chances of dialling 999."

A second strike date is planned for Monday, November 4, from 6am until 8am.