Newmarket: Best Dressed Lady
11 July 2013, 17:52 | Updated: 11 July 2013, 17:54
The best dressed lady has been crowned on the first day of the Newmarket July Festival.
The competition is always held on the first day of the horse racing festival, which is expected to attract up to 35,000 visitors during the three days it is held.
Maria Cheslin [pictured] was named best dressed lady out of 2,500 entrants.
Maria wore what she called 'a pastel neutral outfit with a very big hat'.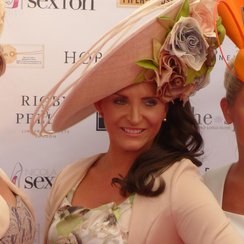 Maria said: "I'm quite overwhelmed to be honest.
The fashion here is amazing this year, so it's incredible to come first out of all these ladies."
Maria has won prizes including a spa day, gift vouchers, a £500 racing outfit and bag and matching pocket purse.
There are also prizes for best dressed gentleman and best dressed couple before the end of the festival.