Cambridgeshire: Police Halloween Advice
30 October 2013, 12:20 | Updated: 30 October 2013, 12:26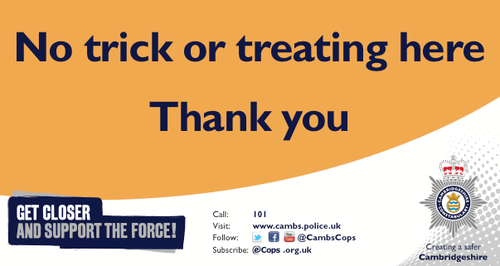 Cambridgeshire Police have designed posters for residents to hang in their windows, if they don't want trick or treat calls.
The posters, which say 'Sorry - No trick or treat here thank you', are designed to help reduce the number of calls about anti-social behaviour during Halloween.
On the 31st October last year between 5pm and 10pm, Cambridgeshire Police received 215 '999' calls, compared with 171 during the same period two weeks prior.
Across the county officers will be increasing patrols and supporting residents who do not want to participate.
Click here to visit the Cambridgeshire Police website and download the poster.
Carol Aston, Community Safety Officer said: "We are working with vulnerable and elderly residents across Cambridgeshire and The Cambridgeshire Bobby Scheme.
We have produced artwork for retailers to try to prevent the unnecessary sale of flour and eggs in the run-up to Hallowe'en and the anti-social behaviour often associated with it.
Officers have been working with schools asking for our messages to be published to students as well as providing information to parents about their safety, visiting houses they know and respecting the 'no trick or treating' signs."
Shirley Simpson, Trust Manager at The Bobby Scheme said: "The Cambridgeshire Bobby Scheme provides a service to older and vulnerable people across the county by improving their home security to reduce crime and provide peace of mind.
We fit door and window alarms, door chains, padlocks and other security devices to make people feel safer in their own home, but we also provide advice and reassurance.
Being burgled or fearing crime can have a devastating impact on older people and affects their health and quality of life."