Prickwillow: Sleigh Full Of Presents Arrives Early
2 December 2013, 08:27 | Updated: 2 December 2013, 08:42
A giant sleigh full of presents has 'landed' in a Cambridgeshire village.
It's after artists transformed Prickwillow's phone box for Christmas.

It has been covered in a way that it looks like Santa's sleigh is entering a chimney on the pavement.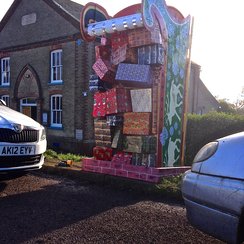 The innovative scheme by Prickwillow villagers to turn their red phone box into a space to promote local art and crafts has attracted worldwide attention since its launch in 2010.

Previous exhibitions have included a controversial photograph of a giant naked man climbing out of the phone box while a large pair of wings and a host of angels provided another festive treat from the Ouse drawing group.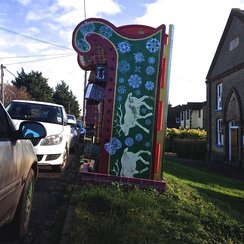 Cary Outis, spokesperson for the Ouse group said: "This is the third time Ouse Life have held a Christmas exhibition at the phone box. We've had huge fun creating it and hopefully visitors will enjoy it too."

A grand unveiling of the latest installation, named Santa Calling, will take place with mince pies and carols at 2pm on 8 December, with work remaining in place until 31 January 2014.