Cambridge: Science Park Station Approved
18 December 2013, 13:45 | Updated: 18 December 2013, 14:04
Plans for a second train station in Cambridge have been approved.
Cambridge City Councillors today approved the planning permission for the Cambridge Science Park train station.
The £30 million building, which will have three platforms, is now expected to be built and open in 2015.
The new station will be on the main line between Cambridge and Ely and is expected to be served by direct trains running to London Kings Cross, Liverpool Street, Norwich and King's Lynn.
As well as connecting into the national rail network, trains may also be available to Stansted Airport and Birmingham.
The station will have 1,000 bicycle parking spaces and 450 car parking spaces.
It's anticipated around 3,000 passengers will use the station every day.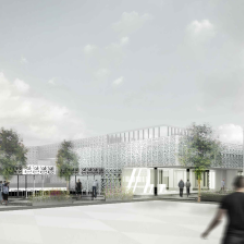 It will have links to the planned new town of Northstowe via the Cambridgeshire Guided Busway.
Cambridgeshire County Councillor Ian Bates, Cabinet Member for Growth and Planning, said: "This new station will provide fantastic benefits for the people of Cambridgeshire, providing a transport interchange linked to the Busway.
It will boost economic growth and improve access to the business area of Cambridge as well as the new Northstowe development while linking to Huntingdonshire and Fenland.
Delivering this station has been a long term goal of the County Council and we have been innovative in working with Government and the rail industry to bring this forward and fund it.
The Government last week gave us a grant of £6 million to help deliver the necessary transport links surrounding the site as a mark of their support for this much needed scheme."
Last week, during a visit to Cambridge, Deputy Prime Minister Nick Clegg announced the government will contribute £6 million towards transport links at the new station.