Cambridge: Scientists Counting Whales From Space
13 February 2014, 06:07 | Updated: 13 February 2014, 12:37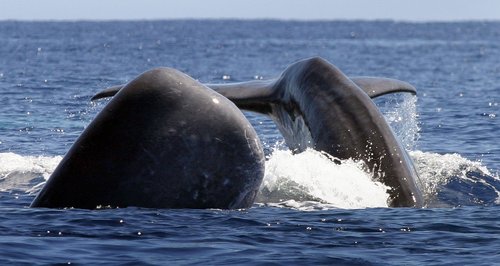 Cambridge scientists have developed a new way of using high-tech satellites to keep count on the world's whales - from 770km in space.
The satellites take photographs of the sea which are then studied using state-of-the-art software to identify whales below the surface.

The snaps - from 770km away - are so detailed each image needs 2.5 gigabytes of computer space to be stored, 1,300 times more than the average iPhone photo.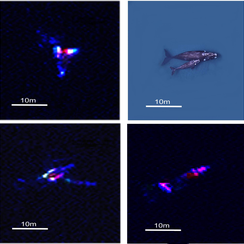 Picture Credit: DigitalGlobe
Researchers from the Cambridge based British Antarctic Survey(BAS) hope the new method of counting could help efforts to save the endangered animals.

It has been successfully tested to count southern right whales in the Golfo Nuevo, off Argentina.

Peter Fretwell, from BAS who led the research, said: "Whale populations have always been difficult to assess - traditional means of counting them are localized, expensive and lack accuracy.

"The ability to count whales automatically, over large areas in a cost effective way will be of great benefit to conservation efforts."

Exact whale populations are unknown but there has been a noticeable increase in the number of southern right calves dying.

Willie MacKenzie, senior oceans campaigner from Greenpeace UK, welcomed the new technology.

He said: "The less intrusive we can be when studying wildlife the better - both for their benefit and the accuracy of the data we collect.

"If this system can be made to work it could be immensely useful in establishing information on whale populations and distribution so that we can better protect them in the future.

"In a world where threats to whales such as climate change, ocean acidification, pollution, and destructive fishing methods are increasing, this could be a vital new tool.

"Unlike the sham 'scientific' whaling practiced today, which is just commercial whaling in disguise, we welcome whale science that doesn't require explosive harpoons and killing whales."

The results of the research were published this week in the scientific journal, PLoS ONE.
Pictures:
Satellite images - DigitalGlobe.
Maps & graphics - British Antarctic Survey.