St Neots: A1 Coach Crash
13 October 2013, 12:27 | Updated: 14 October 2013, 10:55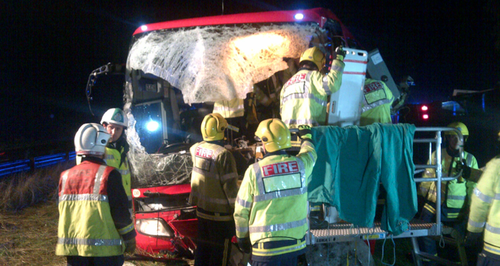 13 people have been taken to hospital, two seriously hurt, after a crash between a coach and a lorry on the A1 in Cambridgeshire.
Cambridgeshire Police have told Heart all three emergency services attended the collision near the Buckden Roundabout.
Police were called at around 5:30am on Sunday to reports of a collision close to the village of Diddington (between Buckden and St Neots).
A coach returning to Newcastle-upon-Tyne from London was involved in the crash with a Tesco lorry.
The coach was travelling with two drivers and 42 passengers, and was carrying employees of Carphone Warehouse who had been attending a staff event.
13 people in total have been hurt.
Two were said to have serious injuries, with 11 sustaining minor injuries.
A further 29 people were assessed at the scene, and taken to a local reception centre organised by Huntingdonshire District Council in St Neots.
Station Commander Callum Faint, Incident Commander for Cambridgeshire Fire and Rescue Service, said: "The lorry was overturned and across the carriage way.
Due to the impact both the driver and co-driver of the coach were trapped and all the other occupants were suffering various degrees of minor impact injuries.
Owing to the large number of casualties, the ambulance service declared a major incident and triage was established at the scene.
As a fire and rescue service we began supporting our colleagues with the large volume of casualties whilst simultaneously extricating the two casualties using specialist cutting equipment.
None of the casualties are believed to have life threatening injuries.
This was a very positive example of multi-agency working involving not only the emergency services but also local authority (for a place to move the casualties to), highways and Carillion"
Cambridgeshire Police are investigating the circumstances of the collision.
The crash closed the A1 in both directions for a short while, before one lane was re-opened on the southbound carriageway.
The northbound carriageway remained closed for several hours after the crash, with all lanes on both carriageways re-opened in the early evening.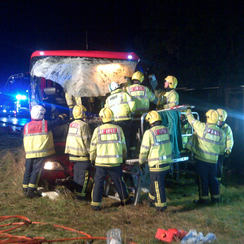 A spokesperson for Tesco said: "We can confirm that a Tesco vehicle was involved in an incident on the A1 in the early hours of this morning.
We are thinking of those involved and are working with the authorities to understand what happened."
Statement from East of England Ambulance Service: "The East of England Ambulance Service NHS Trust have told Heart they were called to a road collision involving a lorry and coach on the A1(M) northbound carriageway between Buckden and Brampton in Cambridgeshire.
Paramedics were on scene within six minutes and, crews worked closely with fire and police colleagues to manage the incident.
Two patients were taken to Addenbrooke's Hospital with serious injuries and eleven patients were taken to Hinchingbrooke Hospital with minor injuries.
A further 29 people were taken to a local reception centre in St Neots to be assessed by medics and to await for a replacement coach service.
The Trust initiated its Major Incident plan due to the potential number of patients involved, but this was stood down at just after 7.30am when all people involved had been transported away from the scene.
EEAST dispatched five ambulance crews, three rapid response vehicles, four officers and the Trust's hazardous area response team (HART) to the scene."
Cambridgeshire Police say 29 people who only suffered minor injuries have been taken to a reception centre set up by Huntingdon District Council for further medical assessment and are awaiting a replacement coach for those well enough to continue their journeys.
Redwings Coaches, whose coach was involved in the collision say, "Early this morning one of our coaches collided with an overturned lorry on the northbound carriageway of the A1 near St Neots in Cambridgeshire.

The coach was carrying 40 passengers plus two drivers, and was en route to Newcastle.

Eleven passengers and the two drivers were taken to hospital and we understand that most have now been released.

Our driver has been commended by many who witnessed the incident and it seems clear that his swift actions prevented a more serious accident.

Nonetheless our thoughts are those injured and affected by this incident. We are co-operating fully with the Police in their investigations."
Update from Cambridgeshire Police:
Many of those initially taken to the reception centre and some of those initially taken to hospital have boarded a replacement coach to continue their journey home.
Update: Statement from Carphone Warehouse:
A Carphone Warehouse spokesperson said: "We can confirm that a coach returning from an employee event was involved in a crash on the A1 in the early hours of Sunday morning.
Thankfully there were no serious injuries but we wish everyone who was hurt a speedy recovery and we will be supporting them through that recovery.
We're working closely with the authorities as they establish what happened."
Pictures: From Cambridgeshire Fire & Rescue Service.