St Neots: Two Still In Hospital After Crash
14 October 2013, 15:32 | Updated: 14 October 2013, 15:37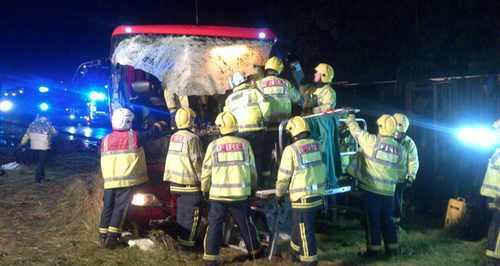 Cambridgeshire Police say two people remain in hospital, following a crash between a coach and a lorry on the A1 near St Neots.
The collision happened at around 5:30am yesterday (Sunday) at Diddington, south of Buckden.
The force says a total of 46 people were injured.
11 people were left with serious, but not life-threatening injuries.
35 others suffered minor injuries.
Many passengers were taken to a temporary rest centre provided by Huntingdonshire District Council while they waited for a replacement coach.
The coach was full of employees of the Carphone Warehouse, who were returning to Newcastle after a staff event in London the night before.
The crash meant a nearby section of the northbound carriageway of the A1 was closed for several hours.
Police are continuing to investigate the collision.
Sergeant Gordon Murray said: "I would appeal for witnesses to the collision or anyone who saw the vehicles in the moments leading up to the incident."
Anyone with information is asked to contact the roads policing unit on 101.