Stansted: Flights Resuming After NATS Glitch
8 December 2013, 07:14 | Updated: 8 December 2013, 07:22
Airline passengers at Stansted may face further delays today, after a major air traffic control glitch caused major disruption at airports across the UK and Ireland.
Hundreds of flights were cancelled or delayed yesterday after problems with a telephone system at the National Air Traffic Service (Nats) centre in Swanwick, Hampshire.
Thousands of people endured hours of frustration as flights were affected across the country, including the major airports of Heathrow, Stansted and Gatwick.
The problem was resolved at about 7.30pm yesterday, Nats said, and while the disruption is likely to have a knock-on effect today, the three main London airports predicted a largely trouble-free day.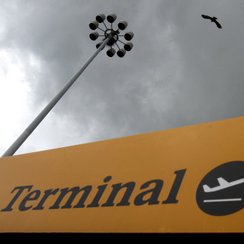 A statement from Stansted Airport reads: "Due to an ongoing air traffic control issue affecting airspace in southern England, flights to and from Stansted Airport are currently subject to delay and possible cancellation.
For more information, and to check the status of their flight, passengers are advised to check their airline website before setting off to the airport.
To speak to a member of our Customer Contact Centre call 08714 777 747."
A spokesman for London Heathrow said last night: "There are no planned flight schedule changes for Sunday.
We still advise passengers to check with airlines prior to travelling though.''
Gatwick said that operations had returned to normal and it was "not anticipating significant disruptions'' today.
The problem occurred when the 23 controllers on a night shift at Swanwick handed over to the 125 controllers on the day shift at about 6am.
Nats' night-time operating system, which combines sectors of airspace for when it is less busy, did not properly switch over to the daytime system, causing a communication problem with the centre's internal telephones.
They stressed that safety was not at risk at any time.
Heathrow was the worst affected, with 228 cancellations - 112 in arrivals, and 116 departures, with most being short-haul flights.
A spokesman for the airport said the cancellations represented 15% of their usual daily total of 1,300 flights going in and out of the airport.
Frustrated passengers were left in long queues to rebook flights, while others reported having to wait for hours to speak to airline representatives.
The glitch affected flights across Europe, with 1,300 flights, nearly 8% of all traffic in Europe, "severely delayed'', according to Eurocontrol, the European organisation for air navigation safety.
A spokesman for Nats said last night: "As of 7.30pm we had handled 3,250 flights today - around 90% of the traffic handled last Saturday (3,613 flights).''
In a statement yesterday, Nats apologised for the disruption, saying: "The reduction in capacity has had a disproportionate effect on southern England because it is extremely complex and busy airspace and we sincerely regret inconvenience to our airline customers and their passengers.
To be clear, this is a very complex and sophisticated system with more than a million lines of software.
This is not simply internal telephones, it is the system that controllers use to speak to other ATC agencies both in the UK and Europe and is the biggest system of its kind in Europe.
This has been a major challenge for our engineering team and for the manufacturer, who has worked closely with us to ensure this complex problem was resolved as quickly as possible while maintaining a safe service.''