Cambridge: Stephen Hawking Film
20 September 2013, 10:26 | Updated: 20 September 2013, 10:30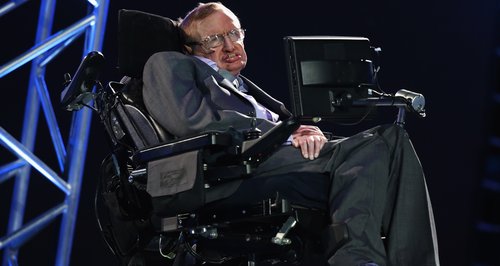 Cambridge has hosted the UK premiere of a film about the life of University Professor Stephen Hawking.
Written and narrated by the 71-year-old author of A Brief History Of Time, the film entitled Hawking tells how he overcame severe disability to become the most famous living scientist in the world.
He attended a reception at Emmanuel College before a showing at the nearby Picturehouse cinema for the opening night of the Cambridge Film Festival last night.
Professor Hawking's carer, Claire Dutson, attended the premiere and said: "I have worked with Stephen for 11 years - it has sometimes been harrowing but mostly fun.
People see him as a renowned physicist but I just know him as Stephen, who has a great sense of humour.''
Stephen Finnigan, the film's director, supported this description of the University of Cambridge professor.
He said: "Stephen was very different to how I imagined him to be.
You expect him to be quite plain speaking, quite academic and quite brainy but actually you can have a laugh with Stephen Hawking.
I went for a curry with him this afternoon and you can chat to him about anything.''
In the trailer for the film, the University of Cambridge professor says: "This film is a personal journey through my life.
I have lived five decades longer than doctors predicted.
I have tried to make good use of my time.''
Professor Hawking was diagnosed with amyotrophic lateral sclerosis, a form of motor neurone disease, when he was 21.
He was told he had only a few years to live.
The film goes back to his childhood and his student days and shows him at home with carers.