Cambridge: Tour De France Festival Begins
1 May 2014, 05:48 | Updated: 1 May 2014, 17:25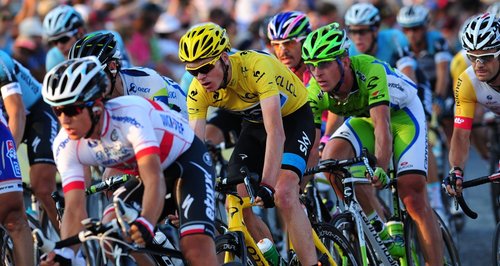 A five month cycling festival starts across Cambridgeshire today, as part of the countdown to the Tour de France.
The Velo Festival is being put on to celebrate a stage of the world's biggest cycle race starting in Cambridge on Monday 7th July.
Highlights from the programme include:
Bike Life 2014 at Ely on Sunday 1 June, where there will be a Street Velodrome in which you can take the challenge to speed around a specially built cycle track, promising to be an exhilarating activity for cyclist of all abilities and spectators or take up the Brompton challenge and see how quickly you can assemble, race a lap and put down a Brompton; you'll also see a display from the March Vintage and Veteran Cycle Club and much more.
On Saturday 7 June British Cycling is running a free, assessed one-day course for local cyclists in Cambridge. In becoming a British Cycling Ride Leader you'll be qualified to lead guided bike rides for groups of beginner and intermediate level adults and accompanied children on roads and cycle paths.
Chatteris in Bloom will be celebrating on 7 June with Yarnbombing of bicycles to add to the planting scheme in the colours of the Tricolour and Union Flag. This is something new to Chatteris and volunteers are being recruited to decorate the bicycles.
Joanne Gray, Lead Officer in the Supporting Businesses and Communities Service at Cambridgeshire County Council, said: "We had a fantastic response to our call for people, communities and businesses from across Cambridgeshire to come forward and be part of the Vélo Festival.
The Tour de France has stimulated some great ideas and activities, we have over 70 great events already listed in the programme.
What is so exciting is the sheer variety of activities which communities have developed and put forward for the public to attend and get involved with.
So please check out the events which are taking place and how you can be involved in spreading the legacy of the visit of Le Tour.
Rob King from Outspoken Cycles who are delivering a series of events as part of the Vélo Festival said: "There is a huge amount of excitement about the race coming to Cambridgeshire, and it's great to see so many community groups, organisations and businesses celebrating through the Vélo Festival.
This is a great opportunity to show the world how important cycling is to the local area.
The range of events in the festival programme is huge, and gives everyone an opportunity to be part of the celebrations this summer."
Click here to find out more about the Velo Festival.