Huntingdon: Yoga To Help 'De-Stress' Primary Students
15 May 2014, 06:45 | Updated: 15 May 2014, 10:44
Children at a Primary School near Huntingdon are having yoga sessions to help them relax before their SATs exams.
The idea came from Ashbeach Primary School in Ramsey St Mary's Year 6 teacher Diana Crosby. She told Heart it was actually her yoga teacher who helped her, "He did a 30 min session with the children, and introduced them to really basic postures.
"He then gave me a lesson plan so I could then do 15 mins of yoga everyday before SATs.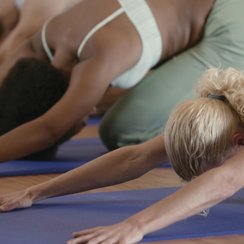 "Obviously tests can be stressful for young children, so we do the yoga, to teach them life-skills.
"It's to help them be relaxed and ready for their SATs, and show them how to cope with stressful situations."
Children at the school also told us they thought it was really working, "I really calms you down and puts you in a good mood."
"I feel really calmed and relaxed, and ready for the rest of the day."
"I feel like I've just let it go!"
SATs exams last until the end of this week.