Chapel Porth Beach: RNLI Video Warns Of Rip Currents
1 August 2014, 14:26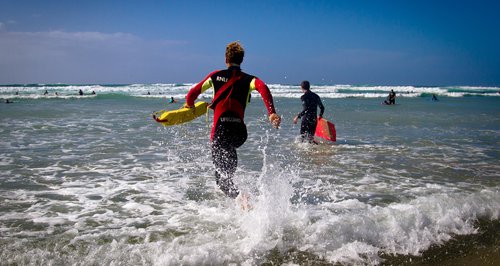 RNLI lifeguards providing safety cover on Chapel Porth beach this summer are warning water users of the dangers of strong rip currents after a series of incidents this week.
RNLI lifeguard Jonny Marshall rescued a girl caught in the strong rip yesterday, while on Sunday lifeguards rescued a father and his son caught in the same current.
The charity's lifeguards have captured both rescues on board mounted cameras as Drustan Ward, RNLI lifeguard supervisor explains:
''Like most of the beaches along the north Cornwall coast, Chapel Porth is known for its strong rip currents. This year, the movement of sand during the winter storms has created two banks to the left and right hand sides of the beach, with a deep water gully running down the middle though which a strong rip current flows. It's particularly strong at mid to low tide and provides the lifeguards with only a small section of the beach to place a safe bathing area.''
On Monday, RNLI lifeguard supervisor Martyn Ward and lifeguard Tom Evans rescued a father and son who'd been taken out by the rip current while bodyboarding.
Meanwhile on Wednesday, RNLI lifeguard Jonny Marshall rescued a young girl who was swimming when the current took her out of her depth.
Both come after an incident last Friday in which RNLI lifeguards at Chapel Porth helped four people who were struggling in strong currents.
RNLI lifeguard Jamie Ward is shown in the footage helping a young boy on a bodyboard and a swimmer after they began tiring in the conditions.
Drustan says: ''It's a popular beach and when the sun's out, the car park is packed. Thankfully those who have needed assistance have been bought swiftly back to shore unharmed, but the team of RNLI lifeguards patrolling Chapel Porth are extremely experienced and most have been patrolling the beach for a number of years. They have been very proactive in advising water users and picking up on potential incidents before they have escalated, keeping the number of those who get into trouble down.
''I would strongly advise anyone planning to go into the water at any beach on the north coast to beware of the strong currents and to ensure they are at a lifeguarded beach. Try and use the water during 10am to 6pm when the lifeguards are on duty as they can advise on the safest area to bath or bodyboard and will be on hand to respond immediately if you get into difficulty.''