Community Energy Switch Scheme Launched
15 January 2015, 12:50 | Updated: 15 January 2015, 12:54
Cornish householders are being encouraged to join together and sign up to a new scheme which could save hundreds of pounds on energy bills.
The collective switching service has been launched by the Cornwall-based charity Community Energy Plus, which provides services to help householders reduce their energy use and ensure that they can afford to heat their homes.
The charity has already got an oil buying club, communityenergyclub.org.uk with over 2,000 members.
Now they're working with the national switching organisation EnergyHelpline to link into a group buying scheme.
This means UK energy suppliers will compete to offer the cheapest and most exclusive tariffs. It's estimated that each household could save around £221 from their energy bills.
For many people living in Cornwall, wages are not enough to keep up with the rising cost of living.
Community Energy Plus say they've seen a steady increase in the number of people contacting them because they are struggling to keep warm and pay their energy bills.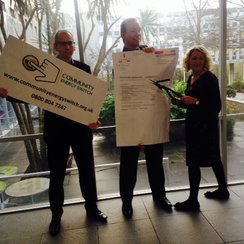 Julian German, Cornwall Council Cabinet Member for Economy and Culture says "A similar initiative was launched in 2012 which proved hugely successful - Cornwall Together saved hundreds of people hundreds of pounds.
"By joining forces with our partners again, and launching a similar scheme, we hope we will achieve the same positive results. This is people power in action, by joining in a collective switch, individuals can make real savings."
Anthony Ball, Winter Wellbeing and Tackling Inequalities Lead at Public Health Cornwall Council says "Cold homes and fuel poverty cause around 350 deaths a year locally, however there's a much larger number of people who experience poor health and wellbeing as a consequence of living in cold homes.
"Community Energy Switch provides the opportunity for everyone taking part to reduce their energy bills, but for some of the lowest income households in Cornwall it could mean the difference between living in a warm rather than cold home."
Registration is free, quick and simple with no obligation to switch. Go to www.communityenergyswitch.org.uk or call Freephone 0800 804 7247 to find out how to get involved.