Cornish Pirates Win Is Overturned
20 October 2014, 16:04 | Updated: 20 October 2014, 16:12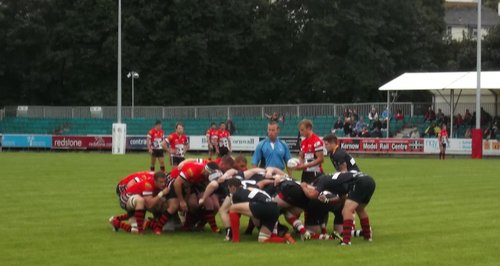 Cornish Pirates have had their British & Irish Cup win over Bedford overturned by the Organising Committee of the competition.
It's after the Committee ruled that they'd breached a Regulation which meant they had too many players on the pitch during the time they came from behind to win the game.
Here is the Committee's ruling:
'The following Organising Committee decision relates to the Round 1 British & Irish Cup fixture between Cornish Pirates and Bedford Blues on Sunday October 12.

Both teams started the match with five 'suitably trained and experienced' front-row players. During the match Pirates had provided such replacements to cover their injured players on the first occasion for both their hooker and prop.

In the 72nd minute, the match went to uncontested scrums as Pirates were not able to provide a further suitably trained and experienced front-row replacement to cover the injured prop Tyler Gendall. At this time, in accordance with Regulation 9.4, Cornish Pirates should have continued with fourteen men on the pitch.

However, Pirates replaced Gendall with fly-half Bertie Hokpin and continued to play with fifteen men.

The score at the time of the match going to uncontested scrums was 34-28 to Bedford.

Pirate's replacement Hopkin scored a try in the 78th minute which was converted to bring the final score to 35-34 to Pirates.

The Panel was of the view that Pirates had breached Regulation 9.4 by replacing the player whose departure caused the uncontested scrums and thereby having fifteen players on the field of play when they should have had only fourteen men. The sequence of events and the Regulations meant that Pirates should have played with fourteen men for the period of time from when the match went to uncontested scrums.

Whilst the Panel accepted that the Match Officials should have noted the extra man on the pitch, or did not realise Pirates should have only had fourteen men present, this does not change the fact that Pirates are ultimately responsible for compliance with Regulations and for the breach of those Regulations. This approach is entirely consistent with other decisions such as in the Bristol vs. Bedford case (23 October 2013) in the 2013/14 Greene King IPA Championship.

The Panel considered the sanctions available to them as set out in Regulation 9.5 and took into account previous cases involving similar breaches. The Panel concluded that Pirates were in breach of Regulation 9.4 of the British & Irish Cup, and agreed that the appropriate sanction would be to discount the match points scored by Pirates (7) whilst in breach of said Regulation and therefore the result of the match will be recorded as 34-28 to Bedford with the competition points allocated accordingly. '

Cornish Pirates have 48 hours to appeal the decision and it is understood that they will be seeking legal advice accordingly.