Cornwall: Bikers Invaluable Service For Hospitals
24 December 2013, 10:51 | Updated: 24 December 2013, 11:11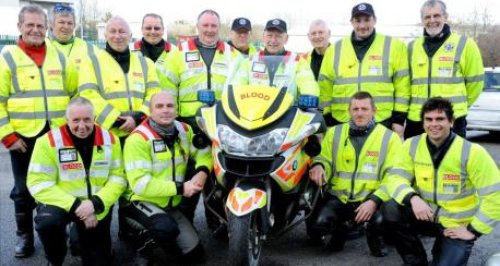 Making it their mission to deliver urgently needed blood, drugs and equipment, free-of-charge to NHS facilities, including Peninsula Community Health (PCH), the Cornwall Freewheelers provide an invaluable service to the Cornish health sector.
Working out of 'normal hours', they courier equipment, medication, x-rays and more from 5pm-7am each day, and work 24 hours a day on weekends and bank holidays, including Christmas Day and Easter Sunday.
The Cornwall Freewheelers take on 150 to 200 deliveries a month and travel between five and six thousand miles, making it their objective to relieve sickness and promote patient health by supporting nurses and their valuable time.
They work to make it possible for nurses to move onto their next patient, rather than drive to Treliske to drop off blood samples.
In special circumstances they will deliver to and from a patient's home.
As a charity the Cornwall Freewheelers need in the region of £25,000 a year to run its life saving service.
This sum is simply to keep the existing fleet of emergency bikes on the road with maintenance and running costs. Enlarging the fleet would take even more funds.
Their service provides a massive saving to hospitals in contractor courier fees, taxi fares, front line ambulance crews and even air ambulances.
For more information http://www.cornwallfreewheelers.org.uk/