Cornwall Head To Twickenham
30 May 2014, 15:02
It's a big weekend for Cornish rugby, as the County team head to Twickenham to take on Lancashire in the County Championship final.
Thousands of supporters are gearing up for the journey to Twickenham on Sunday, as they prepare to cheer the team to victory.
Three coach loads of Trelawny's Army are heading up on Saturday and Sunday, ahead of the game against Lancashire.
It's estimated up to 20,000 Cornwall supporters could be filling the stadium.
Lancashire beat Cornwall in the County Championship's last year, so some of the team tell Heart there will be an element of revenge this weekend.
Cornwall Coach Graham Dawe has reached two finals as a player for Cornwall, in 1989 and 1991. He says the players must "give it their all" this Sunday. He says the Lancashire team is fast and highly skilled, but Cornwall's heart in the game could be what wins it for them "we don't know how much heart the Lancashire team has, and we know the Cornwall boys have had a lot of heart this season".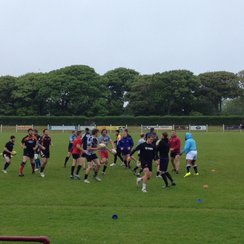 During Thursday's training at Camborne Rugby Club, Captain Ben Hilton said he's got every faith in the team and he hopes the younger members will use their "nervous energy" to their advantage.
Click here to listen to Cornwall players and Coach Graham Dawe, talking to Heart about Sunday's final.
Cornwall Rugby players- ahead of county Championship Final