Five Rescues In One Day For Cornish Lifeguards
10 July 2013, 11:01 | Updated: 13 August 2013, 15:08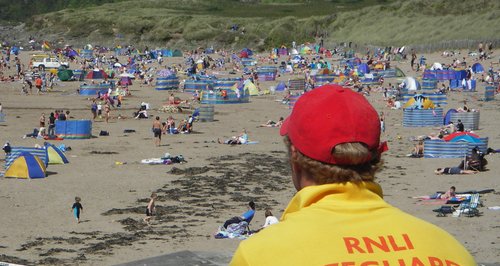 RNLI lifeguards in Cornwall had a busy day on Tuesday 9 July as beach goers continue to enjoy the sunny weather.
The charity's lifeguards carried out four rescues of people in trouble in the water throughout the day, responding on rescue boards to bring the bathers back to shore safely.
At about 5pm, RNLI lifeguards Adam Garland and Steven Gregory launched the Inshore Rescue Boat (IRB) to three people who were cut off by the tide at the southern end of Perranporth beach.
The three were unaware of the potentially dangerous situation, with an incoming tide and a 2-3 foot swell, they were at risk of being washed into the rocks.
On advising them, Adam and Steven transported them back to Perranporth beach in the IRB.
Meanwhile, a volunteer lifeguard crew from Port Isaac rescued a swimmer who had been taken poorly on Gull Rock, a rocky island about 500 metres off Trebarwith Strand beach.
They were keeping an eye on the swimmer and became concerned when his wife informed them that he had been unwell.
Lewis Handley acted quickly to put him in a safe position and prevent him for hurting himself or falling back into the water.
A Royal Navy helicopter flew the man to hospital.
As the warm weather continues beachgoers are being encouraged to head to lifeguarded beaches, swim between the red and yellow flags and check tide times before heading out.
The RNLI has also created a free 'beach finder' mobile app to help people find their nearest lifeguarded beach.
It can be downloaded from www.rnli.org/beach.