Launceston: Building Collapse Closes Town Street
28 November 2013, 13:00 | Updated: 28 November 2013, 13:09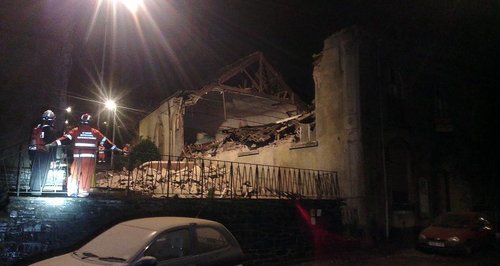 A building has collapsed in Cornwall with debris in the street.
Firefighters from Launceston used thermal imaging camera, a specialist dog and specialist Urban Search and Rescue Team from Devon and Somerset fire rescue to search for anyone trapped in the rubble.
No-one was found trapped and completing a full search.
Castle Street has been closed to traffic and will remain closed for some time.
Firefighters have now left the scene in the hands of Cornwall Council.
But pedestrain access is available to the two Dental Practices, Hotels and museum.
Residents have told Heart that the building was on Cornwall council's 'at risk' register, but we have not had this confirmed.
Shops, Hotels and two dental practices remain open - but the only access is pedestrian and cars will have to be parked at the bottom of the hill.