Padstow: VIDEO Six French Fisherman Rescued
3 February 2014, 14:20 | Updated: 3 February 2014, 16:55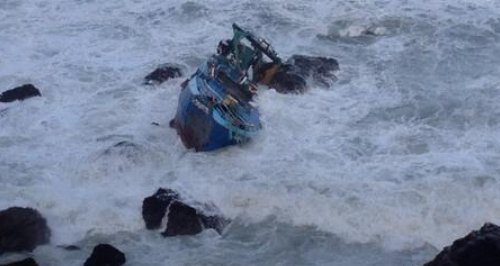 Padstow lifeboat and her volunteer crew launched 1 February 2014 just after 4pm to assist a French trawler that was in difficulty amongst waves described as 30ft plus and wind gusting to 60mph.
The crew of the trawler had to leave the vessel and take to the water in their survival suits because the sea state was too bad for the rescue helicopter from RNAS Culdrose to lift them from the deck of their vessel.

Five of the crew were picked up from the water by the Royal Navy rescue helicopter and the skipper was picked up by the RNLI lifeboat from Padstow. All six crew were brought ashore.

Padstow lifeboat 2nd Coxswain Richard Pitman said: "A great deal of credit must go the winch-man on the helicopter, the heavy sea conditions made his job very difficult as he was dragged in and out of the water with the rise and fall of the sea.

"The conditions were challenging and it was a difficult rescue for all involved, we are pleased to have been able to assist."

The fishing vessel had been struck by several large waves, causing them to lose power and steering.
They were drifting approximately five miles off Trevose Head when Padstow lifeboat and the Royal Navy rescue helicopter were called to their aid.