Rip Current Warning
9 July 2014, 16:51 | Updated: 9 July 2014, 17:03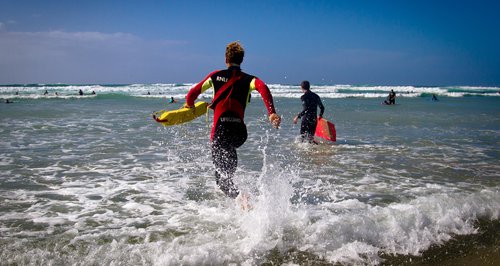 RNLI Lifeguards are warning people to be careful of Rip Currents on Cornwall's beaches.
It's after 10 bodyboarders were rescued from the sea at Gwithian Beach after being caught in a rip current.
It happened as Lifeguards were packing up for the day. They had removed the beach swimming flags and warned water users to stay away from the dangerous current in front of the beach lifeguard unit, when they spotted the bodyboarders being dragged out to sea.
Six lifeguards paddled out to help them.
The advice from the RNLI is to always use a lifeguarded beach and to listen to the warnings about dangerous parts of the beach.
All RNLI lifeguarded beaches in Cornwall have signs and flags, warning members of the public of dangers, such as rip currents and offshore winds.
The advice to anyone who gets caught in a rip current is to stay calm, keep hold of your surfboard or bodyboard if you have one, wave with one hand and shout for assistance.
The winter storms have changed much of Cornwall's coastline, causing permanent rip currents in places which were previously safe.