Seal Pup Released Back Into Sea
2 June 2014, 15:42 | Updated: 3 June 2014, 12:13
Rover the seal pup was just eight weeks old when he was found in a garden in Portreath.
Rough seas during winter storms in February has thrown him into a garden, where he was found quite bewildered, wandering around.
He'd ended up several hundred feet from the nearest beach.
The home owners alerted coastguards who in turn called The Cornish Seal Sanctuary, who sent an animal care worker to collect the bemused and disorientated pup.
He'd suffered some cuts and bruises to his flippers, and was taken to the Cornish Seal Sanctuary to recover.
"He was a good healthy weight, but had taken a bit of battering to his lips and chin and had suffered a few cuts and bruises to his flippers from being tossed around by the heavy seas" said head seal care expert Tamara Cooper.
Whilst there, Rover made quite a name for himself as a rather inquisitive character.
He spent 10 days in the Sanctuarys indoor hospital and quickly earned a reputation for being one of the feistiest of the winter casualties.
He completed his recovery in their convalescence pool and is now a hefty 30 kilos.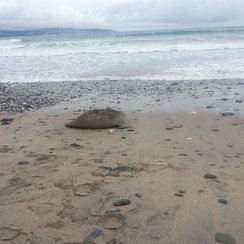 He's now been taken to Gwithian beach, where he's returned to the sea.
You can see a video of him on the Cornish Seal Sanctuary Facebook page.