South West Art For Syria's Sake
A giant heart made from more than 2,000 red flags by two south west artists is being used to highlight the tragedy of Syria...
The giant heart was planted for just a day by the Jamaica Inn at Bolventor by Caroline Cleave and Franca Westaway to raise awareness and money for Oxfam's Syria Crisis Appeal.
It'll be planted next in Totnes and then, maybe Exeter, before going on a tour of Britain.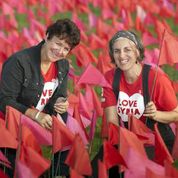 Caroline and Franca were inspired to do something for Syrian refugees over 1.8 million of whom have left their homes to seek refuge in neighbouring Jordan
and Lebanon.
Caroline told Heart: "Syria is a country that has turned in on itself and you just can't imagine that. There was one story about a family who had to leave the orchard that was their home and livelihood. It would be
like coming back to Port Isaac one day to find our house and the business all gone."
Franca, an art teacher at Holsworthy Community College and from Bude has been talking to our reporter Wendy Buckingham CLICK HERE
Oxfam is working with refugees from Syria in Lebanon and Jordan and is aiming to reach over 650,000 people in the coming months. The charity is also calling for urgent peace talks world leaders have promised without further delay.
For more information on Oxfam' Syria Crisis Appeal go to
http://www.oxfam.org.uk/syria