Stadium News By Christmas
2 December 2014, 15:26 | Updated: 2 December 2014, 15:30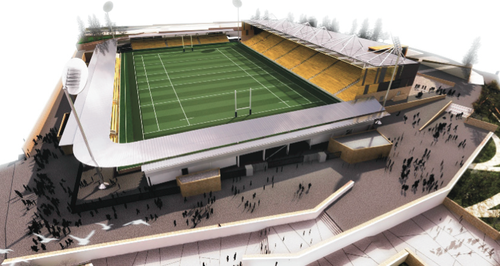 We could find out by Christmas whether plans for a Stadium for Cornwall will go ahead in the coming years.
Developers, Inox Group tell Heart they're hoping to hear from Cornwall Council about the plans before Christmas.
They've got the backing of a major supermarket, so now everything rests on who the council grant planning permission to.
There are applications for three supermarkets in the Truro area, but only one can get the go ahead.
Rob Saltmarsh, Managing director of Inox tells Heart "there's only demand for one supermarket in Truro, so if that happens and it's us then we've got a very good opportunity to deliver the stadium… if another store gets consent then the stadium won't happen".
It's hoped that if the development at West Langarth, Threemilestone gets the go ahead, then work will start next year and the Cornish Pirates will play their pre-season games there in 2016.
The proposal on almost 17 hectares of land already has outline planning permission for 1,500 new homes, a supermarket, a new school, a community centre and extension to the Threemilestone park and ride.
Proceeds from the development would be used to fund the stadium build. Truro and Penwith College are investing £2million in the project, and if the plans get the go ahead, they will base their business centre and hospitality and catering teaching facilities there.
The stadium would become home to the Cornish Pirates rugby team with a capacity of 6,000. That could be increased to 10,000 at a later date.
Ian Connell, chairman of the Cornish Pirates says " For the Pirates it would create a facility to hist premiership rugby and be a base for a raft of our community focussed activities".
Plans to host concerts there would help boost revenue, and bring an estimated £4.3 million into Cornwall's economy every year.