Thousands Of Pirates In Penzance
23 May 2014, 15:10 | Updated: 23 May 2014, 15:11
Thousands of Pirates are heading to Penzance promenade to try and beat a world record.
On Monday 26th of May at 4pm, it's hoped more than 15,000 pirates will gather on Penzance Promenade.
They're trying to beat the Guiness World record for the most pirates gathered in one place.
The record is held by Hastings, where 14,000 gathered in 2012, beating the 8,700 record that was previously held by Penzance.
Now organisers have enlisted the help of the Cornish Pirates Rugby team and the RNLI, their chosen charity for the year.
Johnny Depp lookalikes and swashbucklers from all over the country are coming to Cornwall to take part.
Coach loads of pirates will be making their way down this weekend, with First Great Western even putting on additional train carriages to help transport the thousands of Pirates.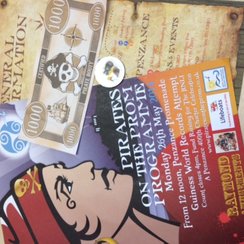 A day of activities is being held too, to keep the pirates entertained until the official count at 4pm, where they have to "be pirates" for 10 minutes to get the official record.
To take part, the organisers are asking for a £1 donation to the RNLI.
Official pirate attire consists of a shirt or stripy top, pantaloons or tatty trousers, a hat or bandana and two accessories. These could be an eyepatch, hook, sword, dagger, spy glass, pistol or even a scar or tattoo.