Three Dead In Beach Tragedy
27 October 2014, 17:13 | Updated: 27 October 2014, 17:18
Three people have died after getting into difficulty in the water at Mawgan Porth.
On Sunday afternoon just before 1.30pm, a number of 999 calls were made by members of the public after seven people got into difficulty in the sea.
Three surfers were airlifted to Treliske hospital where they were pronounced dead. They've not yet been formally identified, but Police believe they were a 44 year old man from St Austell, a 42 year old woman from St Austell and a 52 year old man from the Leeds area.
Four youngsters had managed to make their way back to shore. They were all boys, two aged 18, one 16 and one 15. they were taken to hospital as a precaution.
The group had got stuck in a rip current in the sea at Mawgan Porth.
The coastguard, two RNLI lifeboats, the search and rescue helicopter from RNAS Culdrose and two air ambulances helped with the rescue.
Cornwall Air Ambulance was diverted from another emergency call, and took just 7 minutes to arrive on the scene.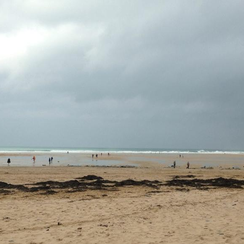 There were no lifeguards on duty at the time of the incident, and now there are calls for lifeguard cover across Cornwall to be reviewed.
But the RNLI says it would be very difficult for them to patrol every beach, every day.
Greg Spray, Lifeguard Manager for Newquay and Padstow said "Every year we look at the risks around the coast when deciding our lifeguard and lifeboat services, as well as our education initiatives.
"We don't know exactly what happened, but it's easy to get caught out by a rip current in these conditions.
"If you see someone in trouble, tell a lifeguard, or dial 999 and ask for the Coastguard.
"Our thoughts are with all those connected to those who lost their lives at Mawgan Porth."