Whitsand: Rescued Woman "On Her Last Legs".
22 May 2014, 06:26 | Updated: 22 May 2014, 06:32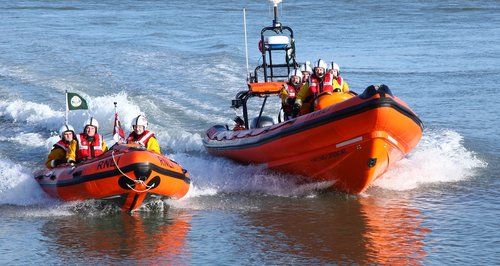 RNLI lifeguards patrolling Tregonhawke beach in Whitsand Bay in south east Cornwall and the volunteer lifeboat crew from Looe rescued a woman who had got into difficulties swimming off the beach on Wednesday 21 May.
Lifeguards Beau Gillett and Joe Saunders were alerted to a woman who had been spotted in difficultly in the Happy Valley area of Whitsand Bay at around midday.
At the same time Looe's volunteer lifeboat crew were alerted by pager and crew members Toby Bray (helm), Michael Berry and Aaron Rix immediately launched the Atlantic inshore lifeboat Alan and Margaret.
Beau and Joe paddled the one kilometre to the location given on rescue boards, but initially couldn't see the woman in trouble.
Joe paddled into the shore to speak with people on the beach who'd heard someone shouting for help while Beau continued the search.
He located the woman some 350 metres out from the beach in a very poor state.
They transferred her into the lifeboat and the crew took them to Tregantle beach where we were met by the Tamar Coastguard team and a paramedic.
Although responsive she was not alert so we gave her oxygen and glucose and kept her warm so that when she was handed over to the paramedic she was in a stable condition.
The casualty was transferred by land ambulance to Derriford Hospital for further care.
For more beach safety information and advice, visit www.rnli.org.uk/beachsafety