Work On New Fire Stations Gets Underway
15 April 2014, 13:41 | Updated: 15 April 2014, 13:50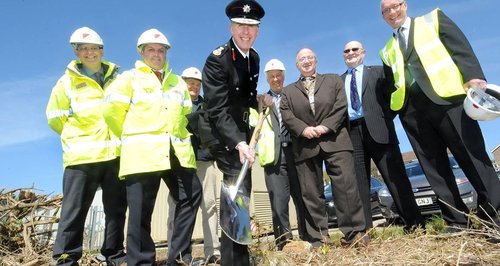 Building to create new state-of-the-art community fire stations at Tolvaddon and Hayle is getting underway.
It's after special turf-cutting ceremonies at both sites today.
The new facility at Tolvaddon will be shared with Service Headquarters which will provide critical services including Fire Control, training and vehicle and equipment maintenance, as well as being the service's administrative centre.
Meanwhile, the new Hayle Community Fire Station will be a tri-service facility, shared with Devon and Cornwall Police and South West Ambulance Service Foundation Trust.
Cornwall Fire and Rescue Service Chief Fire Officer Des Tidbury said: "This is a fantastic day for Cornwall Fire and Rescue Service and I am delighted to officially start the work on the construction of our new facilities.
This project gives us the opportunity to provide modern facilities in the right location to replace our existing community fire stations that are over 50 years old."
More importantly, we will be able to significantly improve the fire, rescue and community safety service that we deliver 24 hours a day, 365 days of the year to the people of Cornwall.
From these new facilities we can reach 13,900 more residents of Cornwall within our 10 minute response time."