Caterham: Teenager Gets Life For Murder Of 14-Year-Old
13 January 2015, 06:53
A teenager who stabbed to death a 14-year-old boy from Surrey he'd met through playing online computer games has been sentenced to life in prison.
Computer engineer Lewis Daynes, 19, who stabbed to death Breck Bednar, 14, from Caterham, serve a minimum of 25 years in jail.
When Lorin LaFave was told the news of her son's murder, she screamed so loud she damaged her own ear drums.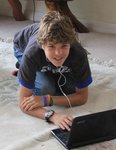 Breck Bednar was part of a group who played war games - such as Call of Duty and Battlefield - online. The 14-year-old's online interactions had been a cause for increasing concern in the months leading up to his death.
The controlling behaviour of Lewis Daynes, the ringleader of the group, prompted Ms LaFave to contact police. But she had never imagined her son was at risk of such a brutal killing.
It is not known exactly what happened, but within 24 hours of Daynes meeting Breck in person for the first time on February 16 last year, he had tied him up with duct tape and slit his throat.
He then sent three pictures of his dying victim to two other online friends.
"I need you to send police and a forensic team to my address," Lewis Daynes said in a 999 call just hours after.
Speaking in a calm voice, the controlling killer went on to outline a carefully constructed explanation of how Breck Bednar met his end.
Daynes claimed he and the 14-year-old had got into an "altercation", adding: "Only one of us came out alive."
Asked by the operator if he was saying he had killed somebody, he replied simply: "Yes, I am."
Daynes then offered his name, age and address before claiming Breck had come at him with a pen-knife.
He added: "I grabbed the knife and stabbed him in the back of the neck, I believe somewhere near the brain stem.
"I don't remember exactly what happened but the fight ended with me cutting his throat."
After outlining his story in a matter-of-fact tone, Daynes cut short the conversation, politely telling the call operator: "Thank you for your help."
When officers arrived at his home, they found Breck laying in the bedroom.
Daynes had submerged his computer equipment in water to destroy evidence.
They found a bin bag containing duct tape and later established that Daynes had used this to tie up his victim.
Daynes had lured Breck to his home in Grays, Essex, after months of controlling behaviour online.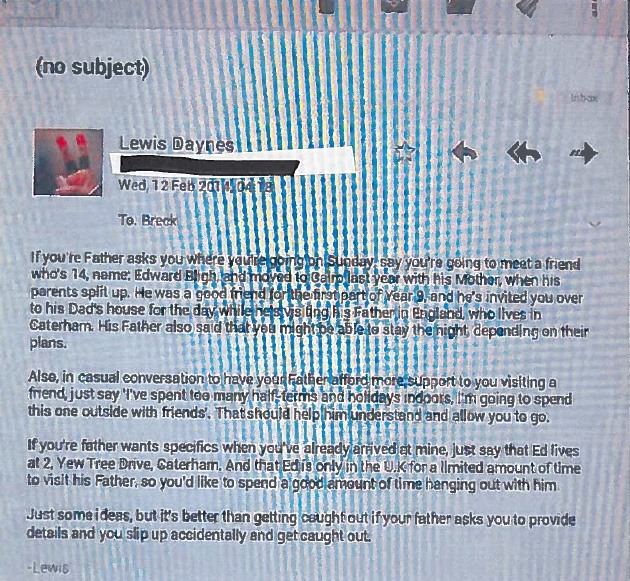 He had behaved in a similar way to other boys - including sending one a video of a man being beheaded.
A series of emails revealed how he tried to persuade Breck to distance himself from his family.
Detective Inspector Anne Cameron, who led the investigation, described him as a "dangerous and manipulative" criminal.
She added: "He used his substantial computer expertise and his knowledge of the world of social media, to control everyone he came into contact with in his virtual world.
"He controlled access to this world jealously and spent a great deal of time building up his online person - pretending to be an entrepreneur in order to influence, coerce and control vulnerable teenage boys to exploit them.
"Daynes has shown no remorse whatsoever for his actions.
"Daynes' actions provide a warning to all of us about the dangers of online predators who can come in many forms."
Outside court, Ms LaFave urged parents to use the case as a reason to speak to their children about the dangers of online predators.
She added that systems should be put in place so that police forces can better share information and deal with concerns about worrying behaviour on the internet more effectively.