£1.5m Bournemouth Travel Interchange Plans On Show
7 November 2014, 08:33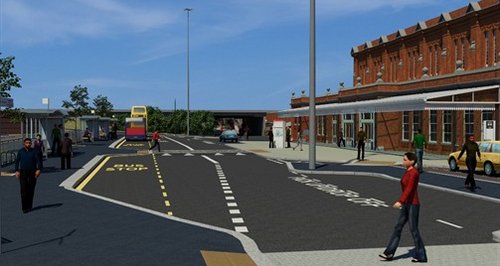 £1.5 million plans to overhaul the Bournemouth Travel Interchange go on show today and tomorrow.
It will soon undergo works to make the area more accessible and welcoming for the millions of visitors and commuters who travel via the Interchange every year.

As part of the improvements, changes will be made to the layout which will see easier and more accessible bus, taxi and cycling facilities as well as better signage. In addition to the changes taking place on the ground, further improvements will also be made to the train station's facilities and canopy.

Members of the public are invited to view the plans at a special two day event where there will be the opportunity to learn more about the improvement works, and speak direct to the officers working on the project.

The preview event will be held at the BU Executive Business Centre, 89 Holdenhurst Road, Bournemouth, on:

- Friday 7 November between 11am and 7pm
- Saturday 8 November between 10am and 4pm

Delivered as part of the Council's Three Towns Travel programme, and working in partnership with South West Trains, the works are due to start in January 2015 and will run until late Summer 2015.

Ian Kalra, Head of Transportation Services, Bournemouth Borough Council, said:
"We are very pleased that by utilising additional government funding, and with investment through our partner South West Trains, we are able to make these improvements to one of Bournemouth's key transport hubs. Millions of people travel through Bournemouth Travel Interchange every year, therefore it is important that we provide people with improved and more accessible facilities.

"Through the Council's Three Towns Travel project we are aiming to give residents, visitors and commuters improved sustainable travel options so that we can encourage more people to travel by bike, bus, train and walking. The improvements at the Interchange will see significant changes to the layout providing a better experience for those arriving by coach and train and who are also looking to travel elsewhere in the town.

"I would like to invite people to visit the preview events as this will be an ideal opportunity to view the plans in more detail and speak to the officers leading on this key Three Towns Travel project."

The improvement works are being funded from central government grants and will cost approximately £1.5 million with South West Trains contributing £400,000 towards this. South West Trains will also be funding improvements to the station's facilities and canopy.

Malcolm Page, Station Property Development Manager for the South West Trains-Network Rail Alliance said:
"We are delighted to be working with Bournemouth Council on improvements to the station. The enhancements planned will make the station more welcoming for commuters and visitors alike. They include reducing the impact of the existing canopy to help create a lighter, brighter appearance and an extension to the booking hall to help reduce congestion. This investment will improve the experience for all of our passengers."
For more information, visit www.threetownstravel.co.uk.