AFC Bournemouth Sign Harry Redknapp - Aged 7!
22 May 2014, 10:41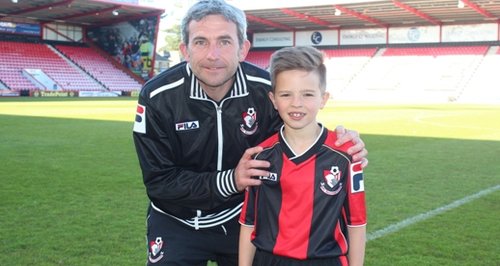 AFC Bournemouth have completed the signing of Harry Redknapp - the 7-year-old grandson of the club's former manager.
Harry Redknapp junior, grandson of current QPR manager and Cherries legend Harry senior, has put pen to paper on an AFC Bournemouth Academy contract and will turn out for the Under 9s next season.
Described as 'direct, strong and a good little goal scorer' by technical development officer Matty Holmes, Redknapp junior is seeking to follow in the footsteps of his uncle Jamie as he progresses through the Cherries' Academy.
"Harry was playing for Moordown locally so we had an eye on him," said Holmes.
"A few scout reports came back saying he was progressing very, very well, so we bought him into our Academy sessions around November last year
"He's been playing with the top under 8s we've got and he's shown really good progression. He's improved his technical work and his receiving and passing skills have come on no end.
"So with that in mind, and the fact that he comes from a footballing family background, we feel he has a great chance of progressing in our system and that's why we have offered him a contract."
Southampton legend Alan Ball's grandson Mack Allen (goalkeeper) has also committed his future to the Cherries' Academy.
"It's funny how it works, you get two or three relatives of famous footballers come in at the same time!" Holmes added.
"They are always signed purely on what we see though. We won't just sign them unless we see an actual talent there, otherwise it is a place that is taken up when another boy could be developing.
"They have to earn it, and Harry and Mack have certainly done that."