Alum Chine 'Super Huts' On Sale
10 March 2014, 12:36 | Updated: 10 March 2014, 19:17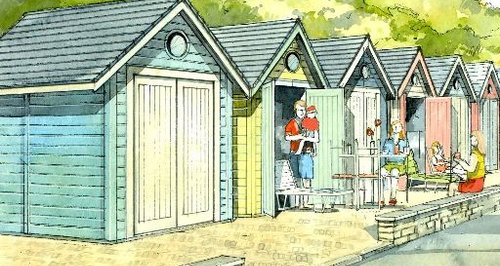 18 new 'super huts' at Alum Chine beach have gone on sale today.
As part of the first phase of Bournemouth Borough Council's seafront strategy, the 'super huts' at Alum Chine are available for sale 'off plan'. At 4.3m x 2.3m, the super huts are larger than traditional beach huts and will be located to the west of Alum Chine, towards the Poole Border. Work on building the super huts is due to start at the end of the month and they will be identical in build to those already at Alum Chine, opposite the Vesuvio Restaurant.

Each of the 18 super huts is offered for sale on a 25 year lease and available for purchase 'off plan' for £39,950 including VAT on a first-come-first-served basis. The new huts can be secured with a 10% deposit. The outside of the huts will be finished in contemporary beach colours but the inside of can be decorated as the owner wishes. The huts can be sublet, or resold with balance of the lease.

Councillor Lawrence Williams, Portfolio Holder for Tourism, Leisure & Culture, said:
"The existing huts have reached the end of their life after many years on the seafront and need to be replaced. Demand for beach huts at Alum Chine remains very high."

"There is a 10-year waiting list for both private sites and annual lets in this area, but there is no queue for a super hut, so they are perfect for those who are eager to own a stunning seafront base without the wait."