Boscombe 'Tardis' Police Box Opens
8 April 2014, 16:29 | Updated: 8 April 2014, 17:47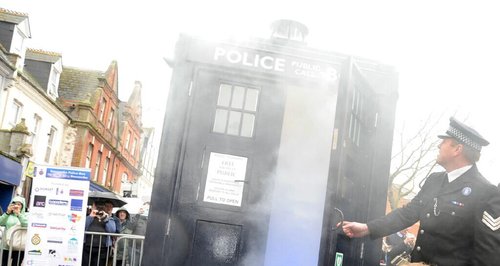 The Doctor appears to have taken up residence on the coast after his famous Tardis police box was deposited in a Dorset seaside town.
Crowds of Doctor Who fans joined curious locals to witness the special effects-laden unveiling of the classic police box in Boscombe town centre in Dorset.

The box will serve as a new police office to help the town confront anti-social behaviour as well as promote the area to tourists.

MP for Bournemouth East Tobias Ellwood, who attended the launch, said:

"Boscombe has had its challenges with anti-social behaviour but it is a vibrant community. The box itself is now a fantastic, iconic symbol of a desire by the police and the community to be very optimistic about where this part of Bournemouth is going.

"It is not only now a tourist attraction in its own right, one of the few boxes operating in the country, it will also be manned in the evening by police officers and have a telephone linked straight to the police as well. It's both symbolic and functional.

"Unveiling the box I couldn't help but notice that many in the crowd were dressed up as Doctor Who figures - there was even a Dalek there.''

The box has been sponsored by local businesses and will be operated by Dorset police.

A spokesman for the force said: ``The community voiced concerns regarding levels of crime and disorder in Boscombe precinct. Due to these concerns I considered an enhanced policing presence essential to reassure the public. The introduction of the police box will place an obvious policing footprint exactly where it is required.''

The box's design is based on the distinctive 1929 version created for the Metropolitan Police and made world famous by the Doctor Who series.