Bournemouth Arts By The Sea Festival Gets Underway
26 September 2014, 07:27 | Updated: 26 September 2014, 07:33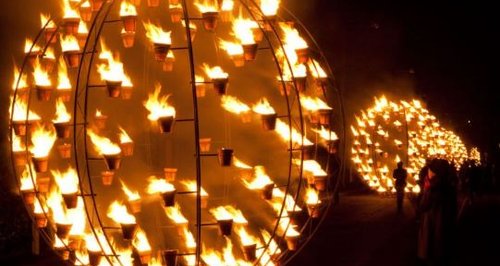 Thousands of people are expected for Bournemouth's Arts by the Sea Festival, which starts today (Friday 26 September).
Over the next fortnight there'll be a range of performances featuring dance, music, theatre and art at venues across the town.

Tonight, there's a fire spectacular in the Lower Gardens (pictured), while Fuel present their panoramic open air performance, The Roof, in The Waterfront area at Pier Approach.
The Carabosse Company, from France, will be creating an awe inspiring fire spectacular for the opening weekend (Friday 26 and Saturday 27 September) combining fire, sound and music to create a beautiful free sensory experience.
Carabosse Company Co-Director, Gerard Court said: "The Festival is a fantastic event and I hope the transformation of the gardens will speak to everyone."
Fuel will be presenting six performances of The Roof (Thursday 25 to Sunday 28 September) as Bournemouth Seafront is 'transformed into a brutal futuristic computer game for this exciting immersive performance'.
Kate McGrath, Co-Director, Fuel said:
"We are so excited that The Roof will be launching the opening weekend of the Festival.
"We couldn't turn down the chance to bring Jon Bausor's dramatic set design to Bournemouth's picturesque seafront and perform under the stars on the south coast."
The opening weekend will also see composer Robert Mitchell debut his first large scale work, 'Invocation' (Friday 26 September), which blends the traditions of jazz, choral, classical and improvised music with over 150 musicians in the beautiful St Peter's Church.
Robert commented:
"It is an honour to perform at this great young festival. A unique experience for myself and a singular blessing for it to be in collaboration with the legendary Bournemouth Symphony Chorus, my fantastic band Panacea and the wonderful students from Avonbourne and Harewood Colleges."
Throughout the town visitors to the opening weekend (Friday 26 to Sunday 28 September) can also enjoy performances and experiences for all ages throughout the Lower Gardens, The Bandstand, Pier Approach and on the Saturday, The Square Goes Vintage brimming with stalls and entertainment including the rock'n'rolling Regular Joes.
Carol Maund, Festival Director said
"The Festival creates a fantastic buzz around the town, giving a totally immersive arts experience in our wonderful open spaces and our beautiful theatres and performance venues.
"I am especially thrilled to welcome back Fuel with their incredible new performance, The Roof - absolutely not to be missed. See it now as this will be its final performance on the tour. And for the alternative scene, definitely check out this year's Festival Fringe - showing off just how creative and inventive Bournemouth arts and cultural scene has become."
The Arts Festival opening weekend kick starts a fortnight of arts fusion celebrating dance, music, poetry, cinema, theatre, art, literature, family and outdoor events - taking place at venues, both familiar and unusual, across the UK's leading resort from 26 September to 12 October.
Confirmed performers include British Sea Power, Slightly Fat Features, Bournemouth Symphony Orchestra, Talvin Singh and The Dodge Brothers whose bass player, Mark Kermode, sums up his festival experience: "It was such a great gig last year, the festival in Bournemouth and its audiences makes us feel like we are coming home."