Bournemouth: Work To Transform Pier Approach Starts
10 September 2014, 12:47 | Updated: 10 September 2014, 12:53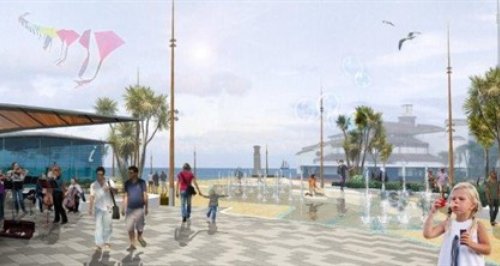 Work to transform the eastern side of Bournemouth's Pier Approach has begun this week as part of Bournemouth Council's 20-year vision to redevelop the seafront.
Pier Approach will be one of the first sites to benefit from Bournemouth Council's Seafront Strategy after planning consent was granted in July this year.

Councillor Lawrence Williams, Cabinet Member for Tourism, Leisure and Culture said:

"The majority of our visitors form their first impressions of the seafront when they enter via the Gardens and Pier Approach so the future presentation of this space is vital if we are to inspire a new generation to visit Bournemouth.

"The demolition of the Waterfront Imax building and the site's subsequent re-landscaping into an events area were the first steps taken towards achieving our aim of transforming the seafront and building a better Bournemouth.

"Visitors and residents alike will be delighted by the new features on offer and the exciting family-friendly environment at Pier Approach when the work is complete."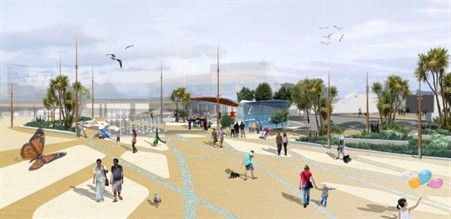 The council says visitors to Pier Approach will enjoy water play features and landscaping in keeping with the history and geology of the area. A kiosk for seafront and tourism information will be built at the entrance of Pier Approach.

There will also be new low energy lighting which will create colourful displays. The new and improved Pier Approach will also provide a setting for the wide range of seafront events from the Air Festival to the Wheels and Arts Festivals.

Bournemouth Council is funding £4 million for the cost of phase one of the improvement works at Pier Approach. Future phases will follow as funding allows. In the long-term it is anticipated that significant amounts of investment in the seafront will come from external grants as well as private sector investment.

The works will take place from Autumn 2014 until Spring 2015 with The Arts by the Sea Festival and the Bournemouth Marathon Festival running as usual.