Huge Clear-Up In Bournemouth After Storm
15 February 2014, 10:30 | Updated: 15 February 2014, 13:49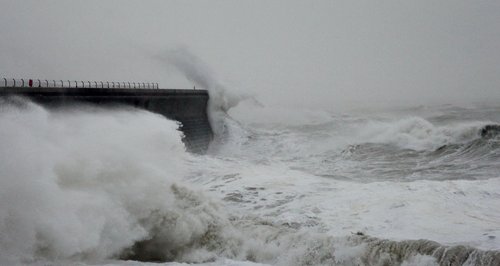 A massive clear-up operation is underway in Bournemouth following the storms overnight.
Teams from across Bournemouth have been out throughout the night and this morning including officers from highways, street cleansing, seafront and parks after a number of fallen trees across the borough.

Fallen trees overnight in Bournemouth:

- Westover Road - tree across road from Gardens to Brasshouse. Road now open.
- Braidley Road by Wessex Way flyover - tree hit house, structural and roof damage. Parks team revisiting site this morning.
- Bath Road - top of Hill by Esso garage. Road now open.
- Glenfurness Ave/Talbot Rd - large tree down - road now open. Tree on side of road to be removed tomorrow.
- Warnford Road - Road currently closed.
- Christchurch Rd/Knyveton Rd junction - road now open.
- Owls Rd - road now open
- Grove Rd - Removed tree from road.
- Hanammen Rd - road now open
- Durley Rod - road now open
- Colanade Rd - tree currently in road - attending today

Residents are urged to report any fallen trees to 01202 451451

Bournemouth Lower Gardens is now open to the public following flooding yesterday.

Parts of Bournemouth seafront and Bournemouth and Boscombe Piers are currently closed to the public.

The section of promenade from Portman Ravine zig-zag (Boscombe Overcliff Drive) to Bistro on the Beach at Southbourne is closed to the public as the whole area is in accessible and a large clear up operation is underway. Seafront staff are currently carrying out a clear up operation of the rest of promenade areas as some parts are inaccessible and they are assessing a number of beach huts that have been moved during the tidal surge and storm last night. Beach hut tenants who have been affected will be contacted as soon as officers have assessed the full impact.

Residents and visitors are advised to avoid the seafront areas today to allow the clear up operation to take place and there is also the potential risk of landslips.

Residents in the Wick and Iford areas were supplied with sandbags last night to protect their properties against risk of flooding. Residents who evacuated from Iford last night are now back home. Staff are continuing to monitor flood water in the area and rest centres are on standby if required.

The Mayor of Bournemouth, Councillor Rod Cooper, is out in the borough today visiting residents at risk of flooding at Wick near the River Stour and will also be visiting seafront and parks teams who are currently carrying out clear-up operations along the 5 1/2 miles of promenade and attending to tree falls across the town.
A helpline has been set up to support those affected by the storms across Dorset, Bournemouth and Poole.

Dorset Direct, the county council's contact centre, is taking calls today (15 February) to help members of public and support agencies, including the emergency services, local authorities, NHS, Environment Agency and Public Health across Dorset, Bournemouth and Poole.

People can call 01305 221000 to:

· request sandbags
· get help with rehousing
· report problems on the highway, including fallen trees, debris on the road and flooding,
· find out the latest public health information,
· access emergency crisis support loans

It is likely that the line will be busy but staff will do their best to deal with queries as soon as possible.

For flooding information and advice, go to www.dorsetforyou.com/flooding or www.environment-agency.gov.uk/flood

For up to the minute travel and road closure information, go to www.dorsetforyou.com/traveldorset