Dorset Lifeguards Ready For Christmas Swimmers
24 December 2014, 07:25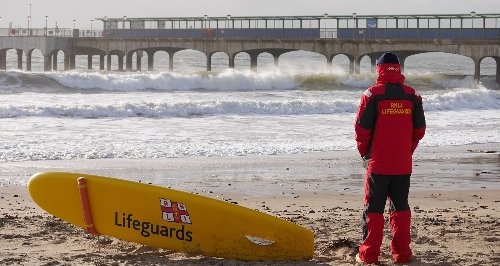 RNLI lifeguards are staying on call at Dorset's beaches over Christmas - after being needed for several rescues last year.
Two will be patrolling the beach at Boscombe, including on Christmas Day and the New Year. Last year over 7,000 people visited Boscombe beach.

RNLI lifeguard Sam Baily said:

"We are prepared for lots of people to come down to the beach on Christmas Day, either for a swim or wanting to try out their new surfboards. If you are heading down to Boscombe, please come and say hello!"

The charity is also offering safety advice to anyone tempted to brave the cold water this winter. James Millidge, RNLI Coastal Safety Incident reduction Manager said:

"We urge anybody thinking about going in the water over the festive period to think very carefully and ensure they are fully prepared. Swimming in the sea is very different to swimming in a pool. It's important you respect the water, never swim alone and don't over-estimate your ability or swim too far out of your depth. The sea conditions can be very challenging and unpredictable during the winter.

"Also the water is extremely cold at this time of year and cold water shock is a major risk. Falling or jumping suddenly into cold water can cause uncontrollable gasping, drawing water into people's lungs which can cause drowning. It can also seriously affect breathing and movement."
Across Dorset last year, volunteers at Mudeford were the busiest over Christmas 2013 - launching a total of four times. The team at Poole launched three times and Weymouth once.

Poole RNLI volunteers saved the life of a woman who had fallen into the water near Poole Quay on December 30. More information can be found here. Minehead volunteer lifeboat crew were also launched the same day to a fishing boat in difficulty off Watchett. Two people were taken on board the lifeboat suffering with cold, and one casualty was airlifted to hospital for further treatment.

Andy Hurley, RNLI Regional Operations Manager, says:

"Our volunteers show great commitment and dedication in their lifesaving work and continue to be on call every day of the year, including Christmas and New Year. While most people are settling down to spend quality time with their family and friends, volunteer lifeboat crew men and women remain prepared to drop everything should they be needed to help others in trouble at sea. Their commitment is commendable and I thank both them and their loved ones who must also be prepared for Christmas to be disturbed by the call of the pager.

"Tragically in the past we've seen a number of fatalities around the south west coast during Christmas and New Year relating to the water. We want people to enjoy the region's coastline throughout the winter and over the festive period but it's important that they are fully prepared for whatever activity they're doing, with appropriate equipment, clothing and the knowledge of what to do in an emergency. The conditions can be very challenging and unpredictable during the winter and the water is also extremely cold at this time of year with cold water shock being a major risk.

"If people want to go for a dip in the sea over the festive period we'd encourage them to go to an organised and controlled event, of which there are many around the south west on Christmas Day, Boxing Day and New Year's Day. Whilst there is safety in numbers, even at the organised events swimmers are still responsible for their own safety, so they should think sensibly, consider the weather conditions and know their limits in the water.

"By taking note of our safety advice, I hope this Christmas and New Year is a safe, happy and healthy one for you all."

More advice on how to stay safe by the coast is available on rnli.org/respectthewater