Coroner Rules Beaminster Tunnel Deaths Accidental
25 February 2014, 17:06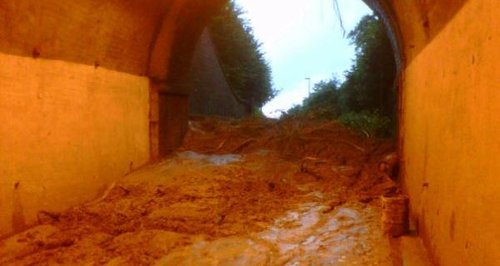 The deaths of two people in a mudslide in a tunnel in Dorset have been ruled accidental by a coroner.
Rosemary Snell, 62, from Misterton, Somerset and Michael Rolfe, 72 from Fivehead, Somerset, died when the car they were travelling in was engulfed by a "wall of mud and water'' at the north end of the Horn Hill tunnel at Beaminster, on 7 July 2012.
Coroner Sheriff Payne has recorded verdicts of accidental death. Mr Payne said the major cause of the landslide was the excess water soaking into the ground.
He said that Ms Snell died of chest compression and Mr Rolfe died of a fractured spine, adding: "Their deaths would have effectively been instantaneous.''

The Dorchester inquest heard that the pair lay undiscovered for 10 days in the crushed car under the mud until their vehicle was excavated when it was realised they had probably travelled along that route that night.

David Ashcroft, who is the managing agent for the land on the south side of the tunnel, said that he became concerned about the potential of a landslide when 42 trees were felled on both sides of the tunnel in 2004.

The work was carried out to prevent the danger of over-mature trees falling on to the busy road.

But Mr Ashcroft, who has a degree in physical geography, said that the removal of the trees without substantial replanting created the danger of a landslide occurring.

He said that he entered into an extensive correspondence with Dorset County Council highlighting his concerns.

He said: "It was a landslide waiting to happen, my concerns appear to have fallen on deaf ears.''

He added: "It is a well-known geographical fact, if you cut down trees or vegetation on a slope of more than 45 degrees, you are going to get some kind of landslip movement.''

Mike Winter, head of Dorset highways management, said that the tree-felling operation was carried out in May 2004 following a tree survey which was held after an ash tree fell on to the carriageway.

He said that the inspection showed that there were a number of trees in "poor condition'' with a "significant risk'' of falling on the road.

He said a small landslip was inspected on the southern side of the tunnel in 2009 but was deemed to be only surface soil movement with no danger of a full landslide happening.

Responding to Mr Ashcroft's concerns, Mr Winter said: "It's rather more complex than A-level geography.''

He said that many factors had to be taken into account including tree and soil type and the geology of the area.

He said works costing £2.5 million were carried out to stabilise the slopes and repair the road and tunnel - which is the oldest road tunnel in the country, which was re-opened to traffic on 29 July 2013.

Pc Rodger Clark, of Dorset Police, said that the landslip happened after England, and especially the South West, suffered, the wettest summer in 100 years with the Beaminster area receiving between 100mm and 125mm of rain in the 24 hour period before the incident.

He said that the car was covered by mud more than two metres in height.

He said: "In my honest opinion, I do not believe someone could have thought there was someone under the mud because of the height of the mud.''

Motorist Patricia Roberts told the hearing that she and her husband were unable to travel through the tunnel on the A3066 when they saw the mudslide hit.

She described how she saw another car ahead of them and said to her husband at the time: "I hope they got out okay.''

Mark Greenham, commander of Beaminster fire station, said that thermal imaging cameras were used at the scene but nothing was found.

He explained that the equipment used was not designed for seeking signs of life in such circumstances but for seeking heat sources in smoke-filled rooms.

He added that there was no technology available for taking images through the mud.

He said that his crew spent about an hour on the evening of 7 July examining the scene for any signs of anyone being trapped and he called off the search shortly after midnight on 8 July.

He said: "I made the decision to cease the search as there was no information that anyone was trapped.

"I also didn't want to put anyone in my crew in danger.''

He said that the local authority then attended to close the road.

Mr Greenham said that it was not standard procedure for safety reasons to search through landslides unless there was information to suggest someone was trapped underneath.

He said that if a search had been ordered on the night of the landslide, a regional urban search and rescue unit would have had to have been brought in.

Mr Greenham said that he was then contacted on 16 July by Avon and Somerset Police reporting that Ms Snell and Mr Rolfe were missing and believed to have travelled along the route.

He said that he returned to the tunnel with a crew of firefighters who began digging into the mudslide and eventually found the trapped car.

A digger was then used to extract the car which had been flattened by the mudslide and crushed by the root system of a large tree.

Dr David Clinton, an expert consulted by Dorset Police, said the removal of the trees was unlikely to be a "significant factor'' in causing the landslide, particularly with the sandy soil at the site.

He explained that the main cause of the landslip was the saturation from recent heavy rainfall which had been four times the normal.

He said: "While it's possible the removal of trees contributed to the landslip, this was unlikely to be a significant factor.

"It will have had an effect, probably a destabilising effect, but it's not as pronounced in sand as it is in clay.''

The inquest heard it was believed that only two trees had been removed from the slope at the north end of the tunnel where the landslip occurred while more trees had been removed from the southern side, which also suffered a landslide a few days later.

Dr Clinton said he believed that better maintenance of the drainage at the tunnel, on land where the owner is unknown, could "probably have prevented the landslip'' but the consequences of failing to do so were "more severe than would have been anticipated''.

He added: "As engineers, we design new slopes to be stable and we always take account of the groundwater conditions.

"With older constructions, many of the slopes are steeper than we would design them to be. When slopes are that steep, they are likely to fail at some time. We cannot prevent that unless we carry out work to do so.''
Mr Rolfe's son Mark described his father as a talented doctor who worked in Africa specialising in the study of Aids.

Ms Snell's friend Carol Walker said that she had described Mr Rolfe as her ``soulmate''.

Recording verdicts of accidental death, Mr Payne said: "Ultimately what happened was a pure accident and, like many accidents, you can say 30 seconds earlier or 30 seconds later and this wouldn't have happened, no one would have died. It's as close as that in some cases.

"The verdicts I am recording into both cases is they both died as a result of an accident.

"This occurred at a time of exceptionally heavy rainfall that only happens between 50 and 100 years.''

He added: "What happened was not foreseeable and wasn't of a criminally negligent nature.''

Describing Ms Snell and Mr Rolfe, he said: "They lived very worthy lives, they were much-loved by those who knew them, they had great friendships, and their lives were greatly enhanced by meeting each other. They had very enjoyable times together.''

He said they enjoyed a glass of champagne together with their meal at the Bridge House Hotel in Beaminster that evening.

He added: "They had gone out for the evening, they came to grief as they were making their way home.''

Describing the conditions that day, Mr Payne said:
"It was an appalling day, there was torrential rain, there were flooded roads, there was mud and debris on the roads throughout that day.

"The sudden landslip was extremely sudden, it extended a very long way and was of sufficient force to take away part of the parapet of the north portal.''