Funeral Of Camilla's Brother Held In Dorset
1 May 2014, 13:11 | Updated: 1 May 2014, 15:09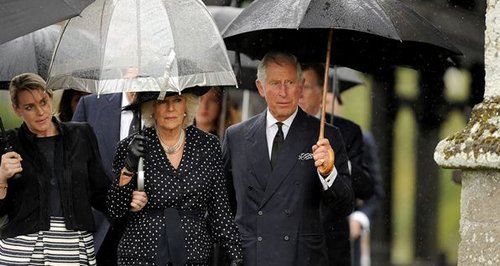 The Duchess of Cornwall led mourners at the funeral of her brother, Mark Shand, in Dorset today (Thursday 1 May).
The conservationist and travel writer died unexpectedly last week after falling and hitting his head in New York.

Camilla and her family, who were left devastated by the 62-year-old adventurer's death, gathered for a private family funeral at Holy Trinity Church in Stourpaine, near Blandford Forum.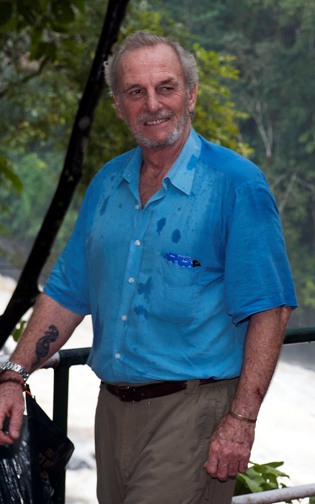 The Prince of Wales was at his wife's side to support her during the service.

The Duchess walked into the church accompanied by Charles and her daughter, Laura Lopes.

In front of the royal couple were Mr Shand's 19-year-old daughter, Ayesha, her cousin, Katie Elliot, and Camilla's sister, Annabel Elliot.

Welcoming around 180 mourners to the church were Mr Shand's nephews, Tom Parker Bowles and Ben Elliot.

After everyone had entered the church, Mr Shand's biodegradable wicker coffin - adorned by garlands of flowers - was carried inside by pallbearers.

Also attending were Conservative MPs Nicholas Soames and Zac Goldsmith.

Camilla and her siblings often spent time together in the picturesque village of Stourpaine, which is home to the Duchess's sister.

Mr Shand once said the country retreat had become the family's "centre''.

The funeral of Camilla's father, Major Bruce Shand, was held at the same church in 2006.

Mr Shand's body was escorted home from the US on a private jet by Mr Parker Bowles and Mr Elliot after an American medical examiner ruled his death was an accident.

Food writer Mr Parker Bowles paid a moving tribute to his uncle, saying his death had left "a massive, gaping hole that will never be filled''.

"There was no-one like him, never will be. How lucky we all were to have had this giant, magnificent figure in our lives,'' he wrote in the Mail on Sunday newspaper.

Mr Shand, who had been in New York for a charity auction at Sotheby's, slipped and hit his head on the pavement as he tried to re-enter through a revolving door after going for a drink with a relative.

Camilla's younger brother was known for his dedication to protecting the endangered Asian elephant.

His rescue of Tara, a female elephant he saved from the streets of eastern India and rode 600 miles (966km) across the country, led to his best-selling work Travels On My Elephant, and the foundation of the conservation charity Elephant Family.

The rebellious adventurer penned numerous books including Skulduggery, which told of his travels in Indonesia where he encountered cannibals, crocodiles and much more.

"We nearly got killed many times,'' he once recalled.

Elephant Family, which said it had been "deeply touched by the many offers of support we have received since his tragic death'', has launched the Mark Shand Memorial Fund to raise cash to save the Asian elephant.