Hunt For Dorset Shop Conman
21 March 2014, 15:01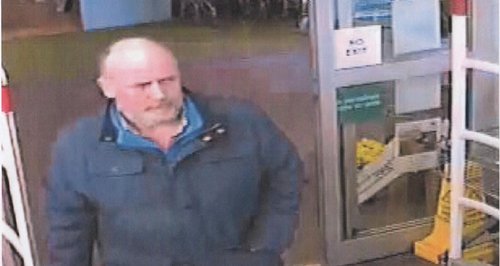 A man's been conning shops in Christchurch, Boscombe, Poole and Weymouth by stealing things then demanding a refund for them.
The incidents occurred between 16 February and 11 March 2014 in Stewarts Garden Land, Tesco Express and Bookends in Christchurch, Primark and Wilkinson in Boscombe, Dunelm Mill in Poole and Matalan in Weymouth.

Each time a man entered the store, picked up goods from a display and took them to a member of staff demanding to be given his money back – claiming a fault or negligence.

The amounts varied in value between £70 and £175 and in all but one of the incidents, he was given a cash refund.

In Stewarts Garden Land the offender picked up some throws and demanded a refund saying he had found a sharp object in them. A similar offence occurred in Matalan in Weymouth, where a man gave the same story concerning a set of curtains.

In Bookends a refund was demanded for some pencil tins which the purchaser claimed had cut his daughter when she opened them. It was discovered later that the pencil tins had not been sold.

At Tesco Express a man picked up some motor oil, walked out of the store without paying, then re-entered claiming he had purchased them and they had leaked over his car seat.

Police Constable Alex Green, of Dorset Police, said:

"The crimes were similar at each store and it is possible many more offences have been committed and not yet been reported.

"As a result of my enquiries I am now in a position to release a CCTV image of a man we wish to speak with.

"I urge the man pictured – or anyone who recognises him – to come forward as soon as possible.

"I also would like to remind all retailers to be vigilant and report any suspicious behaviour to police on 101.

"Fraud or attempted fraud should be reported to police by calling Action Fraud on 0300 123 2040."

Witnesses and anyone with information should call Dorset Police on 101.